The Red White and Food campaign
The Tennessee Grocers and Convenience Store Association launched the Red White and Food campaign in March 2008 in hopes of giving consumers the choice to buy wine in retail food stores.
The response – including more than 6,000 people who have signed up as campaign members – shows consumers believe this change is long overdue. A recent poll by Middle Tennessee State University found that 62 percent of Tennesseans think wine should be sold in grocery stores. Only 26 percent were opposed, and 12 percent were undecided.
The legislation proposed by state Sen. Bill Ketron (R-Murfreesboro) and Rep. David Shepard (D-Dickson) would make Tennessee the 34th state providing consumers this choice. Rep. Glen Casada (R-Franklin) is one of the co-sponsors on the House bill.
The legislation would not put wine in every grocery store in Tennessee. As proposed, the bills would limit sales to retail food stores in the approximately 85 municipalities where citizens have voted for retail package sales. Other local laws across the state would further limit the sales based on store proximity to churches, schools and playgrounds.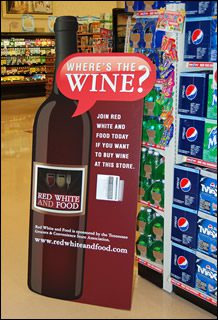 Thirty-three other states sell wine in retail food stores, including five of the eight states that border Tennessee. Research shows that these states do not experience higher levels or drunk driving or underage drinking. No state has ever allowed retail food stores to begin selling wine and then rescinded that change. In 75 years, wouldn't at least one state have reversed its decision if opening the market was so disastrous?
For years, retail food stores have sold beer. Two years ago the grocery and convenience store industry advocated the Responsible Vendor Act, which includes training for employees and mandatory proof of age for anyone purchasing beer. The industry would extend this requirement to all wine sales. Most grocery and convenience stores think the Responsible Vendor Act is the best thing the industry has ever done to discourage people who are not of legal drinking age from trying to purchase alcohol.
Competition would benefit consumers. Many economists agree that restricting a marketplace leads to inflated prices that hurt consumers. The American Economics Group has found this to be the case with wine sales. A more open market and competition would protect consumers from artificially high prices. A more open market could also help Tennessee stores that are losing sales to bordering states that allow wine sales in retail food stores.
There is evidence that retail food stores and liquor stores can coexist. Liquor stores will always have a market for wine connoisseurs who want upscale, hard-to-find wines and the advice about food pairings that liquor store employees provide every day.
The retail food industry—and most Tennesseans—think consumers should have a choice of where they but their wine. To show your support for wine in retail food stores, become a member of the Red White and Food campaign at www.redwhiteandfood.com.