Savor the Sizzle this National Pork Chop Day: Perry's Steakhouse & Grille Rings in Holiday with Delectable Offerings at its Nashville Restaurant and Online Marketplace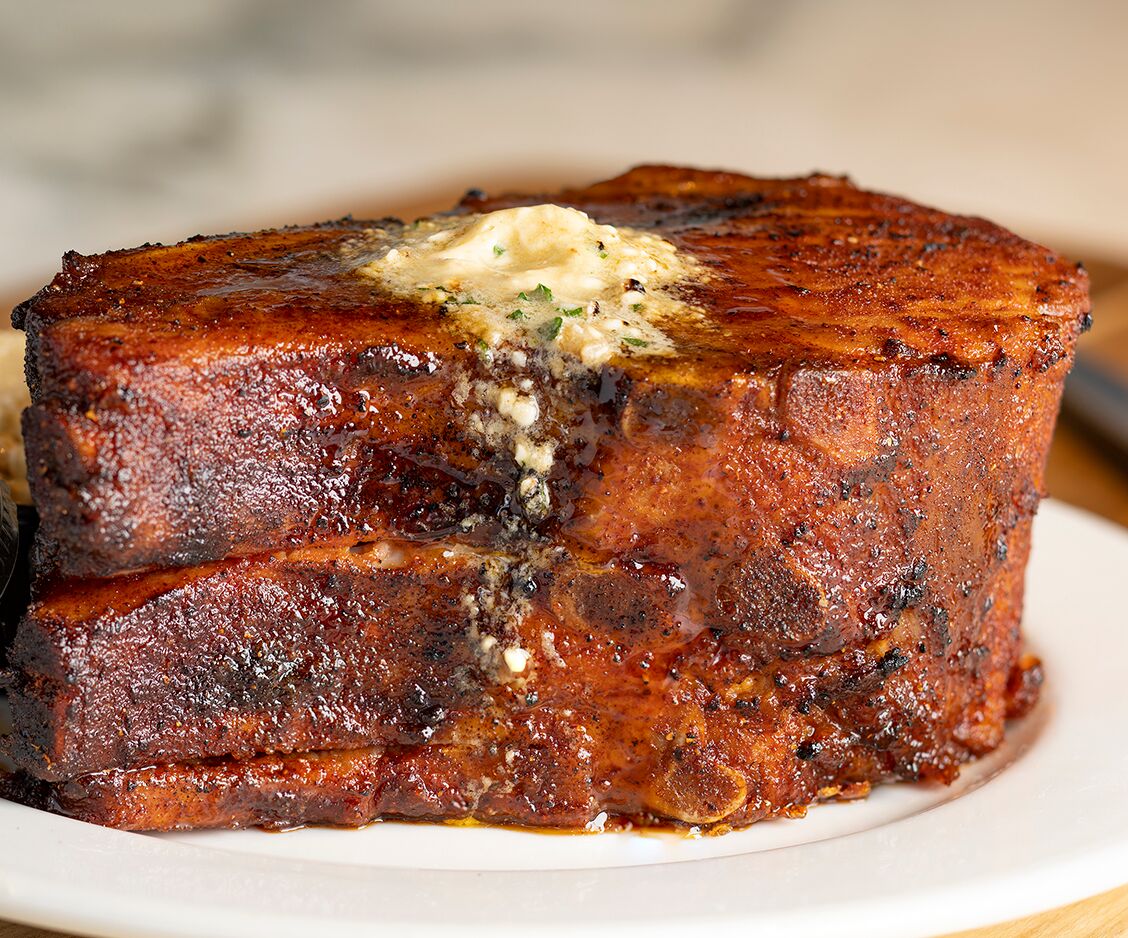 Nashville, TN – August 21, 2023 – Renowned for a famous gluten-free, smoky, sweet, sizzling Pork Chop – deemed by The Austin Chronicle as "Perry's Iconic Pork Chop-of-the-Gods" – Perry's Steakhouse & Grille is the place to celebrate National Pork Chop Day in Nashville.
On Sunday, August 27, Perry's is inviting guests from Nashville to experience an exquisite 4-course Pork Chop celebration for just $44 at its Grove Drive location. From 4 p.m. to close, this celebratory offer will feature a delicious lineup of choices, including:
Perry's Famous Pork Chop Bites: These delicious morsels of juicy pork are the perfect way to create a flavor of explosion with every bite.
White Bean Pork Chili: Infused with poblano peppers, hatch green chiles, seasoned with garlic and oregano, and finished with diced applewood-smoked bacon and pieces of Perry's Famous Pork Chop.
Perry's Famous Pork Chop: The legendary seven-finger high, signature chop has captured the hearts of connoisseurs far and wide.
Dessert Options include: Orange Vanilla Cream Cheesecake, Chocolate Crunch and more.
For beloved guests who want to celebrate in the comfort of their own homes or share the holiday with loved ones, they can turn to Perry's Online Market. Perry's is bringing the celebration to doorsteps nationwide with its exclusive Pork Chop Day Bundle. For just $109 ($38 savings), this delectable bundle includes:
Two lunch-cut pork chops (18 oz. each)
One dinner-cut pork chop (32 oz. each)
Approximately 36 delectable morsels of Perry's famous pork chop bites.
Perry's believes in creating a Rare & Well Done® experience until the last bite. That's why our dedicated culinary team has crafted a collection of nine leftover recipes, empowering guests to transform their kitchen into a gourmet haven. These newest recipes include a savory Pork Omelette and a rich Pork Bolognese.
For more information, or to make a reservation for National Pork Chop Day, guests can visit PerrysSteakhouse.com.
###
About Perry's Steakhouse & Grille
Perry's Steakhouse & Grille has earned a faithful following by perfecting Prime since 1979. Beginning as a small butcher shop, Perry's has grown into a renowned group of award-winning restaurants featuring USDA Prime beef, tableside carvings, signature selections, and flaming desserts as well as reserve wines and handcrafted cocktails at its Bar 79. Specializing in a Rare and Well Done® experience, Perry's currently operates steakhouse locations across Texas and in Birmingham, Chicago, Coral Gables, Denver, Miami, Nashville and Raleigh. Additional concepts include Perry & Sons Market & Grille, the original meat market location in Houston Texas, and CARVE American Grille in Austin, Texas. Perry's Steakhouse Online Market offers its signature pork chop, Prime steaks, signature seasonings and butter, steak knives and other items for shipping throughout the continental US. For more information, please visit PerrysSteakhouse.com.