Outerwear for fall and winter 2008
By Polly Bibb
When the temperatures plummet this fall and winter, be ready for the necessary and hot outerwear. Finding the right outerwear can be like looking for a needle in a haystack. However, this fall Calvin Klein released a gorgeous line of outwear for women.
The collection is inspirational as it draws on a palette of black, grey and silver tones. It is a mixture of a romantic look with a bit of edge.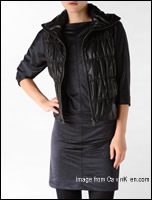 To start, the black puffer vest is perfect if you want a laid back sleek look on a mild fall day. Then the classic houndstooth coats are perfect for everyday wear. They can take a simple black outfit and add a bit of sass, while keeping the winter chills away.
Leather is heating up the runways this year. I will never forget the first time I was in Florence in the leather market. My friend wanted to have a leather jacket made from Italy. We sat down with a designer and looked at several leather styles. Calvin Klein's jackets have clean cuts and a fun metalic leather coat that is sure to make a statement on a winter evening out with friends or an afternoon stroll through the park.
Finally, the mohair winter coat is perfect for a romantic date. With the way that this coat moves, it creates a sort of majestic look for any hard working woman. No matter what you choose to pull on over your hot look, be sure to have a few outwear staples to keep you warm, styled and ready for whatever comes your way!