Franklin Wine Festival Raises Record $112,000
The fourth annual Franklin Wine Festival, held Oct. 24, 2008, at The Factory in Franklin, Tenn., not only experienced record attendance, but generated $112,000 for Big Brothers Big Sisters, a record. Click here to see pictures from the event!
Supported by Nissan USA and other area firms, the event was hosted by Cool Springs Wines & Spirits. All proceeds benefit Big Brothers Big Sisters of Middle Tennessee, and 100 percent of the funds raised stay in the community, supporting the mission and programs of Big Brothers Big Sisters of Middle Tennessee.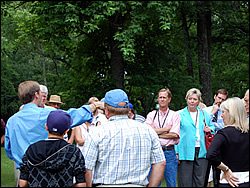 The Franklin Wine Festival is the premier fundraising event in Middle Tennessee, a true celebration of wine, cuisine and culture unlike any other. Attendees enjoyed food and wine pairings from Middle Tennessee's finest chefs, with an opportunity to sample over 300 wines. An expanded "high-octane" beer tasting was offered, as well as top-shelf scotch and cigar sampling.
Attendees got into the spirit of fundraising by bidding on more than 80 items featured in the Festival Silent Auction, from hard-to-find wines, fabulous trips, gift certificates, artwork and more.
"Community participation and support has been phenomenal", said event chair, Sandy Draper. "This event has grown from raising $8,000 in 2005, the first year, to raising $112,000 just four years later in 2008. With the participation of community-minded companies backing a cause in which they believe, the next Franklin Wine Festival, scheduled for Oct. 2, 2009, promises to be the most successful event ever."
About Big Brothers Big Sisters of Middle Tennessee …
Big Brothers Big Sisters of Middle Tennessee's mission is to help children reach their potential through professionally supported, one-to-one relationships.
Children in the Big Brothers Big Sisters' program have increased self-confidence, show improvement in school performance, and have better interpersonal relationships with their families. These children are also less likely to begin using illegal drugs or other substances, skip school or engage in acts of violence.
Certainly these attributes benefit the entire community. Big Brothers Big Sisters of Middle Tennessee is a growing agency that is expanding its scope and reach to serve every child who wants or needs a mentor.
It takes about $1,000 to mentor one child for one year. So far this year, Big Brothers Big Sisters of Middle Tennessee has served over 1,800 at-risk children and youth, and is on track to serve 2,250 by end of year.
Big Brothers Big Sisters funds go toward the rigorous application and screening process for BIGs, reference checks, background checks and volunteer recruitment. As much as Big Brothers Big Sisters relies on volunteers to carry out its mission, it also relies on experienced staff and highly trained social workers to provide constant follow up on matches between BIGs and littles, making sure kids feel the positive impact of mentoring.