Edible Play Dough
Whipping up a batch of edible play dough is an inexpensive and fun indoor activity for kids to express their creativity. Edible play dough is also an entertaining activity that suits children of various ages. As a parent, you don't have to worry about the kids accidentally licking the play dough or being exposed to funky chemicals. Most of the ingredients are likely things you can probably find in your kitchen cabinets.
Oatmeal Play Dough
Ingredients:
1 cup flour
1 cup water
2 cups oatmeal
Instructions: Mix ingredients together. Let everyone make different shapes. Allow the shapes to dry overnight. The activity for the next day can be to paint their shapes.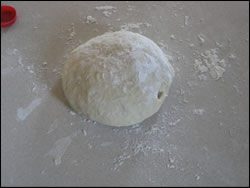 A fun suggestion is for children to make a bowl that they can decorate and then use to keep small trinkets in.
Peanut Butter Play Dough
Ingredients:
1 cup of creamy peanut butter
6 tablespoons honey
1 cup non-fat powdered milk
Instructions: Mix peanut butter and honey together. Start adding dry milk until the dough reaches the consistency you desire. Knead dough with fingers and making different shapes. Store in airtight container when done playing.
Some fun suggestions are to add pieces of candy, dry cereal or raisins and make fun designs or to use cookie cutters to make seasonal shapes