5 random questions with "Platinum" selling artist and Dove Award Winner, Mark Schultz
Recently, we sat down with "Platinum" selling artist and 2006 Dove Award Winner, Mark Schultz, who has had seven #1 singles since 2001. We were eating breakfast at Puckett's Gro. & Restaurant in downtown Franklin, and in between bites of scrambled eggs and sausage, Schultz gave us the answers to 5 random questions…
FranklinIs: What is one thing people don't know about you?
Mark Schultz: I eat a McDonald's salad every day for lunch. Every day for the last two years.
FI: What is your favorite way to exercise?
Mark Schultz: I like riding my bike, a Gary Fisher mountain bike with road flats. Usually I ride it over to get my salad at McDonald's. When I'm on tour, I do that just about every day – get off the bus, get out my bike and ride up through the drive-thru for my salad.I
FI: What is your favorite place to eat in Franklin?
Mark Schultz: Breakfast at Puckett's with a big hug from Miss Vicki!
FI: What subject do you GOOGLE the most?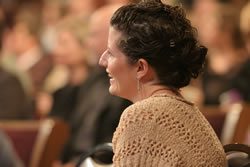 Mark Schultz: How to speak Italian. My wife and I want to live in Italy someday.
FI: What is your favorite TV show?
Mark Schultz: Grey's Anatomy. My wife is a resident doctor in obstetrics at UNC-Chapel Hill.
Schultz is getting ready to release his latest album, Broken & Beautiful, on Sept. 26. That same day, he will perform locally on Fox 17, "Tennessee Mornings."
"I feel I know what I'm supposed to do in life—write songs, perform and communicate," says Schultz, who in just six years has become one of the industry's most successful songwriters, penning such poignant hits as "He's My Son," "Remember Me" and "Letters from War," which was selected as the centerpiece of the U.S. Army's 2004 "Be Safe—Make It Home" campaign. Schultz' hit, "Back in His Arms Again" was named BMI's Christian Song of the Year in 2003. "I Am the Way" was cited as the Christian Song of the Year by American Songwriter magazine in 2001.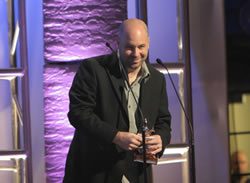 He's earned numerous accolades and become one of the Christian format's core artists with seven chart-topping hits to his credit. He's also found success on mainstream radio, scoring an AC hit with "He's My Son." His last project, "Live. . .A Night of Stories and Songs," won the 2006 Gospel Music Association Dove Award for longform music video of the year. He recently earned the No. 1 spot on Billboard magazine's Hot Christian Adult Contemporary Songwriters list.
For more Mark Schultz info, visit: www.markschultzmusic.com