True Kid-Oriented Dentistry – McNutt Pediatric Dentistry Team Goes Above and Beyond for Young Patients
Article by Julie Brown Patton
Originally published in Brentwood Lifestyle
With a love for both children and dentistry at heart, Timothy McNutt Sr., DDS, opened McNutt Pediatric Dentistry in 1988.
One year later, in 1989, Dr. McNutt got a rare opportunity to purchase the Green Hills-located practice of Dan Baccus, DDS. This was a special, once-in-a-lifetime development, given that since 10 years of age, Dr. McNutt had been a patient of Dr. Baccus. "When I was 13, I even told Dr. Baccus, 'I'm going to buy your practice someday,'" he recalls.
Friendly, expert care is crucial to soothing young patients, and this dental team consistently receives topnotch online reviews. The practice now provides services for dental cleaning, orthodontics, special needs dental care, oral surgery, sedation dentistry, sealants and digital X-rays.
"Caring for children involves having an understanding of the medical, social and emotional needs of the individual at different periods of their life. Children are not just little adults," Dr. McNutt explains. "In the same reasoning parents choose a pediatrician to care for their child's medical needs, a parent should consider a pediatric dental specialist to care for the dental needs."
He says he often has adults who jestingly ask him if he can become their dentist, too.
While earning an undergraduate degree at the University of Tennessee Knoxville and a dental degree at the University of Tennessee Center for Health Sciences in Memphis, Dr. McNutt received multiple awards, which included the IMHOTEP Society for Outstanding Leadership, the Dean's Leadership Award, and the American Society of Dentistry for Children Certificate of Merit. He also was president of his dental class, as well as Student Government for the College of Dentistry president.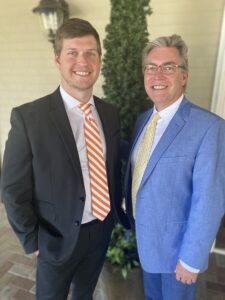 He completed a pediatric dental specialty residency program at the University of Alabama-Birmingham, which has one of the few pediatric programs that also train under the orthodontic department for the treatment of young people with braces. He served as chief resident there, graduating with honors. He also was a fellow at the Chauncey Sparks Center for Developmental & Learning Disorders.
Dr. McNutt became a Diplomate of the American Academy of Pediatric Dentistry in 1994. He's also been on staff at Vanderbilt Children's Hospital for 20-plus years.
In addition to Dr. McNutt speaking with children's classes and parent groups to help promote good dental health, he's written a book for children to help them prepare for their first dental visit, titled Alley Alligator's Awesome Smile.
Community Involvement
Education:  Dr. McNutt speaks with more than 25 groups every year. McNutt Pediatric Dentistry also sponsors many school events and fundraisers throughout the year.
The Arts:  McNutt Pediatric Dentistry proudly sponsors many of Nashville's organizations, such as the Nashville Ballet, Olde Worlde Theatre, Centennial Youth Ballet, The Frist Center for Visual Arts, and the Nashville Symphony.
Best Buddies of Tennessee:  McNutt Pediatric Dentistry is an official corporate sponsor of Best Buddies, a group dedicated to inclusive living. For 20 years, Dr. McNutt has given his time and resources to help individuals and organizations that assist those with special needs as these individuals hold a truly special place in his heart.
Interfaith Dental Clinic:  For two decades, Dr. McNutt has supported the work of the Interfaith Dental Clinic, a group that helps restore, protect and improve the dental health of uninsured, low-income, employed Middle Tennesseans.
Book'em:  To improve literacy, Dr. McNutt has partnered with the Book'em organization to host an annual book drive to provide books to Nashville children who would otherwise be without them.
Church:  Dr. McNutt serves as a church elder, at which he and his wife are involved with the young adult and college group.
Another of life's pivotal milestones is occurring presently for this Nashville native and graduate of John Overton High School. Dr. McNutt just welcomed his own son, David McNutt, DDS, into the practice, also as a pediatric dentist. David received a master's degree in pharmacology from The University of Tennessee Health Science Center. He earned his doctor of dental surgery degree from Meharry Medical College, followed by a master's in pediatric dentistry/pedodontics at The University of Tennessee Health Science Center.
David also received numerous awards in dental school, and was inducted into Omicron Kappa Epsilon, a national dental honor society.
David is married and has two children of his own, so says he, too, understands the need for being a patient, compassionate dentist for kids so that youths have and develop positive dental experiences.
615.383.0171
McNuttDentistry.com