Tour of Homes 2008
Homeowners are polishing the silver, cleaning the windows and dressing up for company to come calling for the 33rd Annual Heritage Foundation Tour of Homes June 7 and 8, according to Ernie and Nell Bacon, home tour chairs.
"We have an outstanding collection of homes; eight are in historic downtown Franklin and on out Lewisburg Pike, making it easy for people to visit these fantastic pieces of history," said Ernie.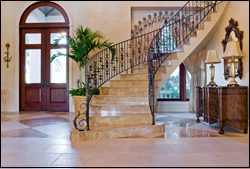 The Bacons are doing their own housework that includes planning and implementing this annual event, recruiting volunteers and signing on sponsors. Zeitlin & Co., Realtors is serving as the Presenting Sponsor again this year.
"We are honored to be asked to chair this tour. We think it's such an important part of what the Heritage Foundation does in showcasing pieces of history that serve as homes for Franklin's families today," he said.
The Bacons have been in Franklin since 1993 when they relocated here from North Georgia. Both native Tennesseans, they have been involved in many Franklin and Williamson County activities. Ernie is a retired healthcare executive, having served at one time as Chief Operating Officer for Community Health Systems. He recently retired from public service after serving eight years as Franklin Alderman at Large.
Nell is retired from an active practice in retail pharmacy. She currently serves as Secretary of the Downtown Neighborhood Association, is a member of the Pioneer Families of Williamson County and the National Society Colonial Dames XVII Century.
Ernie is past President of the Heritage Foundation and the Historic Carnton Plantation Association. He currently serves on the board of Franklin's Charge, Tennessee Preservation Trust and the Harpeth River Watershed Association. They were the 2004 recipients of the prestigious Patron's Award from the Heritage Foundation.
Mary Pearce, Executive Director of the Heritage Foundation, says the Bacons will produce a splendid tour. "They're working nearly full time putting this tour together. There are so many parts of the whole to be assembled in organizing this project. All proceeds from the tour benefit the Heritage Foundation. We are thrilled to have Ernie and Nell in charge of raising money for us on this venture," she said.
Tour hours are 10 a.m. to 5 p.m. on Saturday, June 7 and 1 to 5 p.m. on Sunday, June 8. Advance tickets are $25 before the tour and $30 on the days of the tour. Tickets may be purchased at the Heritage Foundation Office located at the back of the Historic Five Points Post Office in Franklin, by calling 615.591.8500, Extension 18, or by visiting www.historicfranklin.com.