Cafy's Roast House Café
By Candace Hutchins
We are sad to inform you that Cafy's had to close due to current economic challenges. Their exceptional organic and fair trade coffees can still be purchased by contacting the Roast Master at orders@organicgroundsroasting.com.
Cafy's Roast House Café is a relaxing experience from the moment you arrive. Situated above ground level in the new Aspen Grove Village, rainy (or hot) weather is easily avoided by parking the convenient lot underneath the building. When the weather is nice however, the spacious patio outside Cafy's has ample room for grabbing lunch, enjoying a smoothie, or catching a local band on Friday or Saturday evening.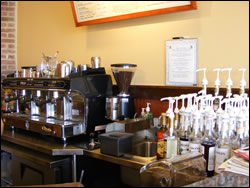 As the name suggests, Cafy's Roast House Café is more than just a coffee house and offers a unique experience to patrons in many ways. Cafy's prides itself on using organic or local products whenever possible. They serve breakfast, lunch, and dinner all at a reasonable price considering the freshness and high quality of the products used. The food is healthy but still hearty with choices such as the Basil-Tomato Meatloaf Sandwich. They employ a chef on staff, which is unusual for a small café but ensures delicious meals and innovative specials. The chef creates specials based on the seasonal product availability in order to ensure the highest quality and most flavorful meal. Cafy's also sticks to a healthy menu by avoiding having fried items (except the beignet Saturday morning special!).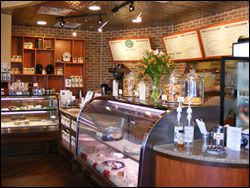 Cafy's is a relaxing experience and the staff tries their best to make the customers feel at home. Customers will want to come back regularly for superior comfort food such as Mom's Tuna Salad, Caramelized Onion BLT, and Cherry-Tarragon Chicken Salad. One particularly special lunch dish is the Grilled Three-Cheese Sandwich, which is loaded with cream cheese, cheddar, and havarti, from the local Hatcher Dairy. Whether as a conclusion to a great meal or as a special afternoon treat, Cafy's also offers a changing selection of homemade desserts including cheesecakes, red velvet cake, pies, brownies, cookies, panna cotta, fudge, and bread puddings.
Finally, Cafy's coffee reflects their high-class, organic, comfort attitude toward food. Many coffee connoisseurs will appreciate the care Cafy's takes to ensure their gourmet coffee has the best flavor possible. Beans are ordered from all over the world and the resident "Roast Master" ensures their microroaster creates the perfect tasting gourmet coffee. Other exceptional beverage options include Italian soda, organic teas, iced fruit tea, and smoothies. In addition to serving meals at breakfast, lunch, and dinner in the restaurant or to-go, Cafy's offers boxed lunches, dessert, fruit, or deli trays (ordered a day in advance).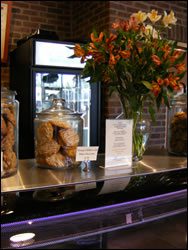 Cafy's Roast House Café is successful as a quaint bistro. They aim to have as little impact on the environment as possible and also to create a comfortable, at-home atmosphere. There is already evidence of success, with regulars coming in daily to grab their morning coffee and pastry and more are sure to follow suit in order to enjoy the unique experience Cafy's provides. As Cafy's matures and establishes itself in the Franklin area, it is unlikely to lose sight of what matters—high quality natural food, friends and family enjoying a good meal, and a gently cared-for cup of hot coffee.
Monday-Thursday 7 a.m.-9 p.m.
Friday-Saturday 7 a.m.-10 p.m.
Sunday 9 a.m.-2 p.m.

Cafy's Roast House Café
3301 Aspen Grove Drive, Suite 105
Franklin, Tennessee 37067
Telephone: (615) 503-9766
or 1-888-77-Cafys (22397)
Fax: (615) 771-1164
www.cafys.com