Life is Good Dinner
By Candace Hutchins
The Life is Good Dinner kicked off the weekend's festival and 5k run at Green's Grocery in Leiper's Fork, Tennessee on June 6th, 2008. The event benefited the Boys and Girls Club of Williamson County and the Life is Good Kids Foundation.
"Life is good® Festivals bring communities together to feel good and do good. Fully 100% of festival funds raised are donated to the Life is good Kids Foundation. The Foundation donates every penny received from festivals to extraordinary charities helping kids who face unfair challenges, including the trauma of violence and poverty."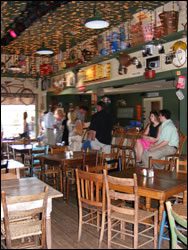 Guests enjoyed a delicious rib dinner complete with all the fixins'. The local Leiper's Fork crowd welcomed the speakers with their southern version of "Life" t-shirts declaring "Life Are Good" and featuring a character wearing a NASCAR cap and bottle of Moonshine. Co-founder of "Life is Good" apparel and accessories, Bert Jacobs delivered an inspirational speech explaining the journey he and his brother made from selling t-shirts on the streets to running a multi-million dollar company. Unlike many large companies, the founders at Life is Good have not lost their vision and give back to communities through Festivals and events such as this dinner. Bert encouraged listeners to look at life as children do, with optimism and joy and introduced his childhood neighbor Steven Gross, the founder and executive director of "Project Joy".
Project Joy is a nonprofit organization that "uses the healing power of play to transform kids sidelined by violence, poverty and loss into healthy and joyful players in the game of life." Steve explained the positive psychological impact that playing has on children that have experienced trauma in their lives. He shared a moving clip from the documentary "After the Storm: The Project Joy Story", which portrays the healing power play has on children in Mississippi who were directly affected by the devastation of Hurricane Katrina.
Finally, guests had an opportunity to express their inner youth and act joyful on the dance floor with great live music by a "hillbilly jam band", the Homer Dever Band and some special guests.
To view pictures from the event check out: www.franklinis.com/life-is-good-dinner-pictures-s1195