The Ultimate Bucket List for Your First Visit to Downtown Franklin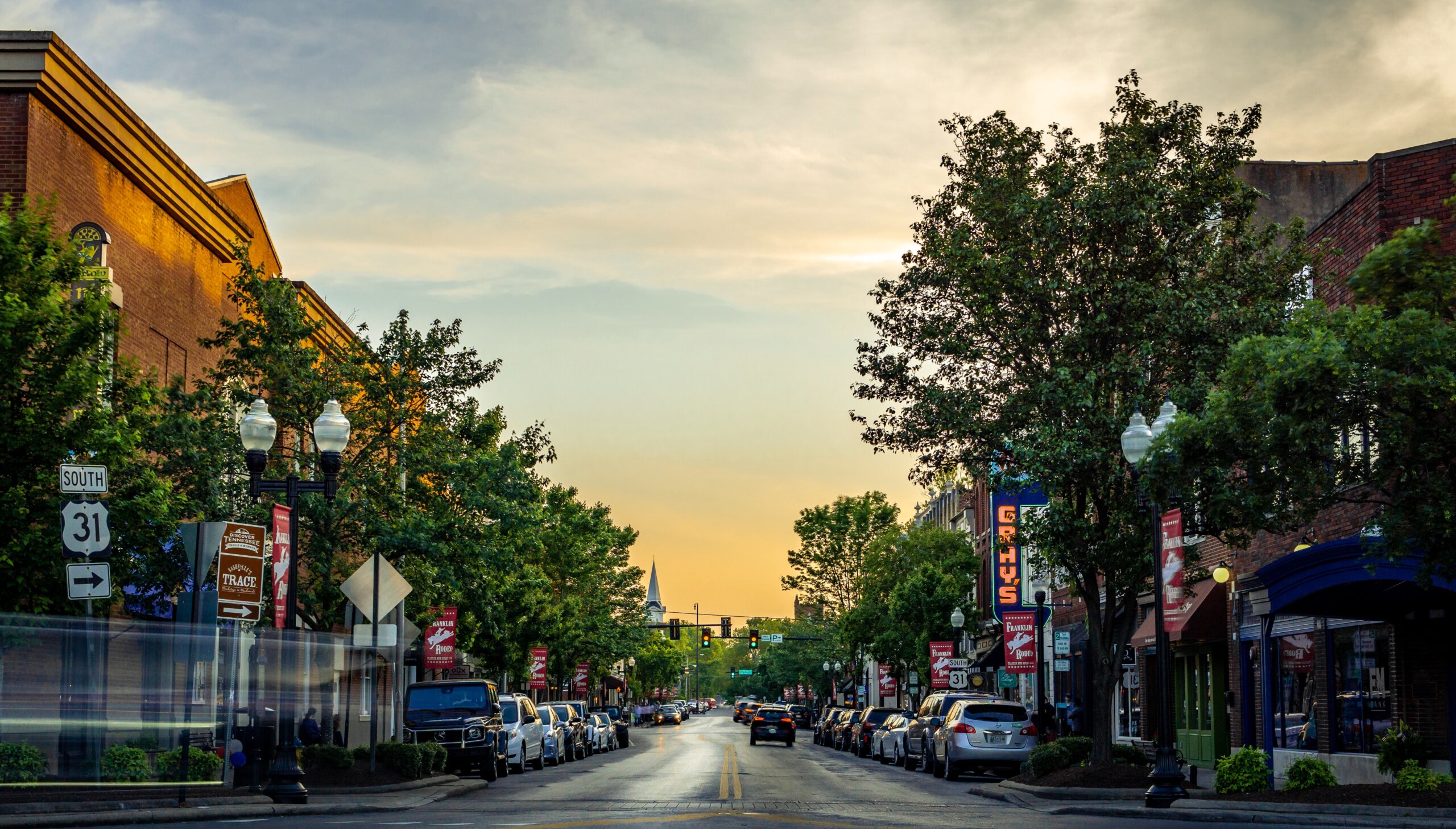 Downtown Franklin is an incredible example of historic preservation, with brick sidewalks, Victorian architecture, and over 70 unique shops, restaurants, and venues to explore! A variety of events and festivals take place in downtown Franklin throughout the year, including farmers markets, art crawls, PumpkinFest, Dickens of a Christmas, Small Business Saturday, and more – there is always something fun to enjoy! Franklin's historic downtown hosts a plethora of boutiques, shops, art galleries, restaurants, live entertainment, and over 100 years of history. Keep reading to uncover our idea of the ultimate bucket list for your first visit to the beloved downtown Franklin!
Learn about local dining experiences, entertainment, shopping, and more at FranklinIs.com.
Main Street 
Franklin's downtown area is classified as a historic district and its Main Street has garnered plenty of accolades throughout the years! There are so many things to do and see on "America's Best" Main Street, including browsing through a variety of antique stores, art galleries, boutiques and book stores, or learning more about historic sites from The Battle of Franklin! Lined with trendy stores and picturesque scenery, just walking down Main Street is an activity in itself!
The Franklin Theatre garners over 80 years of history and local admiration. Built in 1937, this downtown Franklin landmark served as the city's first air-conditioned building and housed the city's first public restroom, as well as being the beloved hub for the newest movie releases! In our present day, The Franklin Theatre continues to show new and classic movies, musical performances, live entertainment, and concerts on Main Street! The Franklin Theatre's interior features classic red seats and gorgeous gold architecture. Enjoy their nostalgic setting, fresh popcorn and state-of-the-art sound and lighting systems, while experiencing world-class entertainment. Make sure to check out this historic, cherished theater any time you're in downtown Franklin! 
The Factory at Franklin was built in 1929, serving as an actual factory for businesses like Dortch Stove Works, Magic Chef, and the Jamison Bedding Company. The property was purchased by local developer Calvin Lehew in 1996, who renovated the facility into The Factory at Franklin we all know and love! The Factory has kept much of the original architecture and was added to the National Register of Historic Places in 1997. This local treasure trove of stores, restaurants, studios, and entertainment provides the community with a wide range of shops, food, drinks, and fun! Go shopping at one of their many shops, decorate pottery at Third Coast Clay, grab dinner at one of the local restaurants, experience some local theater with Studio Tenn at Turner Theater, enjoy live entertainment at Mockingbird Theater & Bar, or sip on a cocktail at The Skylight – the possibilities are endless!
City Farmhouse in downtown Franklin can be found inside of a historic home built in 1815. This local shop features curated home goods and antiques from all over the country to decorate your home with! As you browse through the store, something is sure to get your attention, whether it's a unique trinket or a gorgeous new centerpiece! City Farmhouse is locally owned and operated, with unique, story-worthy antiques and vintage items that make for perfect keepsakes or gifts!
Established in 2003, Franklin on Foot brings the city's history to life! Their tours include the Civil War Tour, Haunted Franklin Tour, Food Tour, Classic Franklin Tour, private tours, and much more. If you are visiting downtown Franklin, the Franklin on Foot tours will teach you about the town's Civil War history and all the best local spots!
The Franklin Antique Mall is an award-winning family business that has been around for over 40 years! Located in the old Franklin Ice House, this unique antique shop offers furniture, accessories, collectibles, and more. This is a prime place to go antique hunting, so make sure to stop by this breathtaking shop on your trip to downtown Franklin!
Gallery 202 features a diverse collection of local, regional, and national artists that use a variety of styles and mediums. Not only does this art gallery offer one-of-a-kind art, but it is also housed in a one-of-a-kind building! Gallery 202's home was built in 1821 as a townhouse used for social gatherings. Clouston Hall is believed to have hosted historical figures like Andrew Jackson, James K. Polk, and Andrew Johnson! 
Created out of a love for the city's small town charm and rich history, Franklin Walking Tours offers a range of experiences that feature stories from the past and present, as well as tales of many unique people and places! Their tours include Franklin Charm, Grim & Ghostly, Tombstone Tales, Franklin's Fierce Females, Psychic Walk, and private tours. Learn more about the city with Franklin Walking Tours!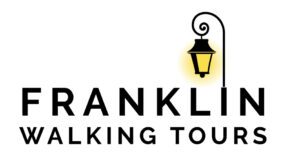 Located on Main Street, Rare Prints Gallery curates, preserves, and sells vintage prints, original maps, and a variety of other artifacts. Their vintage prints feature limited edition and handmade pieces that date all the way back to the 1400s! Rare Prints Gallery employees are educated in history, preservation, color methods, and custom framing reproduction. View or purchase some historic prints at this historic store!
Located in the heart of downtown, The Harpeth Hotel is a luxury hotel with deluxe accommodations, live musical entertainment, and delicious food and drink options! 1799 Kitchen & Cocktails is a restaurant inside of this 4-star hotel, offering seasonal menus that showcase the flavors of Middle Tennessee, handcrafted cocktails, and live music every Friday-Sunday night! Check out this upscale hotel if you are in need of accommodations or if you would like to enjoy some live entertainment! 
Built in 1826, Carnton was home to former Nashville mayor Randal McGavock. This historic home in downtown Franklin served as the most significant field hospital for injured soldiers during and after the Battle of Franklin. 1,700 men were laid to rest in the McGavock 2-acre family cemetery, and you are invited to visit Carnton on their various tours throughout the year. 
Landmark Booksellers is a beloved bookstore on Franklin's Main Street, specializing in curating new, old, and rare books. This local gem offers over 35,000 books and over 2,000 collectables, with prices ranging from $10-10,000! Make sure to visit this bookstore full of history and rarities, located inside a historic antebellum home from 1808! 
Nesbitt & Co. can be found in a historic house with an eclectic assortment of antiques. With items dating from the 1800s through the present day, there is so much history in this little shop. Browse their 30s, 40s, and 50s inspired clothing items or search their vast inventory of antique household items next time you visit downtown!
The Lotz House is a historical site from the Battle of Franklin, built in 1858 by German immigrant Johann Lotz. Amidst the bloody battle, a cannonball was shot through the roof and second floor of the Lotz House. If you visit, you will see that there is still an indent from where the ball hit the first floor! Their guided tours include ghost tours, cellar tours, women's history tours, battlefield tours, and more. The Lotz House Antiques & Museum Store offers antiques and collectables from all over the world, dating between the 1820's to 1950's. Derived from the late Susan Armstrong Thompson's estate, this store features one-of-a-kind items from her travels. Consider touring this historic home and museum if you are interested in some of downtown Franklin's history!
White's Mercantile is a great place to find gifts for your loved ones back home! This local shop is completely curated with home goods, clothing, food, pet items, and more! Inspired by an old-fashioned general store, you can stop by White's Mercantile to shop for essential items for your everyday life, as well as original antiques. White's Mercantile has a nostalgic style of architecture and art works with all the basics in stock – you can even bring your dog along with you! 
Locally founded in 1968, Pull-Tight Players Theatre is recognized for their excellent community theater. Located in a historic building that has served downtown Franklin as a church, grocery store, restaurant, and antique shop in its vibrant past, Pull-Tight Players Theatre presents six mainstage productions every season! Pull-Tight Players Theatre is a professional theater company, so make sure to check out this local theater for some high-quality entertainment!
Brunch Spots
Downtown Franklin is serious about Brunch. If you are looking for the perfect spot to start your day with beautiful views of downtown, some unique food items and delicious coffee, you are in the right place. Here are some local favorite brunch spots! 
Frothy Monkey is an all-day cafe that serves breakfast, lunch, and dinner with a full-service wait staff. Their locally sourced ingredients and inviting atmosphere offers a menu of homemade pastries, fresh breakfast entrees, and an extensive coffee menu of signature lattes, traditional coffees, and seasonal flavors! You can even take your meal outside and enjoy the views of downtown with your furry friend! Stop by and enjoy a fulfilling brunch in Frothy Monkey's warm environment of string lights, cozy furniture, and bookshelves in downtown Franklin! 
Biscuit Love is a family-owned and operated restaurant located in Franklin's Historic Corn House, an 1800s home with a rich history of food and entertainment. This local staple has been featured on the Food Network and offers scratch-made meals with locally sourced ingredients, breakfast classics, customizable coffee options, and more. Their outdoor seating is spacious, surrounded by beautiful greenery and string lights! Try out their Chicken & B-Waffles made from biscuit batter or their unique Bonuts that consist of fried biscuit dough tossed in sugar, topped with lemon mascarpone, and served over blueberry compote. Their merchandise sales even benefit local non-profits – enjoy a delicious brunch in this historic building while supporting the community! 
Affectionately referred to by locals as "The Merc", the Franklin Mercantile Deli has been a staple in the downtown community since 1999! The casual environment is filled with well-loved furniture, local art, and delicious Southern favorites. Their small outdoor seating area invites you to enjoy your food in the open air of downtown. With classic diner foods for any time of day, hot coffee, and a comforting atmosphere of familiar furniture, comfortable seating, and local works of art adorning the walls, this deli is the go-to spot for cozy brunch lovers!
Merridee's Breadbasket has made a name for itself in downtown Franklin, with scratch-made menu items, a growing list of accolades, and a rotating menu of seasonal specials! The founder of Merridee's Breadbasket, Merridee McCray, grew up baking breads and pies with her mother – she was doing most of the baking by herself at the age of 9 and opened Merridee's Breadbasket in 1984. The cozy, nostalgic atmosphere with wooden furniture and patterned tablecloths is complete with the sweet smell of pastries filling the air. There are dozens of breakfast options, fresh pastries, and coffee beverages to choose from, so you are sure to find what you're looking for at this beloved local bakery! Enjoy your baked goods on their outdoor patio decorated with atmospheric string lights and beautiful greenery.
Ruby Sunshine boasts a wide range of breakfast options, featuring scratch-made specialities, customizable omelets, sweet and savory pancakes, sandwiches, french toast, and so much more! Their coffee selections include a variety of personalized cold brews, lattes, cappuccinos, and espressos. Their outdoor dining area allows you to enjoy your meal with fresh air and beautiful views of downtown Franklin. Make sure to check out this unique, brunch-loving eatery located in downtown Franklin's public square when you're visiting!
Dining Experiences 
There are so many options when it comes to dining in downtown Franklin, featuring Southern favorites, live music, entertainment, and plenty of history! Here are a few local restaurants with friendly staff, appetizing meals, beautiful scenery, and unique atmospheres. 
Before Gray's on Main became a beloved restaurant in downtown Franklin, it served the city as a pharmacy called the Gray Drug Co. for nearly a century! The building was renovated in 2013 and has been a hit restaurant ever since. Their menu features seasonal, locally-sourced Southern fare and cocktails reflecting the culture of the late 19th century for you to enjoy while experiencing live music and entertainment! Take a bite out of history at Gray's on Main, housed in an 1876 Victorian building on Main Street!
Cork & Cow is a unique restaurant with a menu of classic and experimental dishes. This local steakhouse boasts more than their delicious steak and seafood options made from locally sourced ingredients – their exceptional cocktail program features over 100 bottles of wine and unique craft cocktails. Cork & Cow's menu changes throughout the year to showcase seasonal dishes, so there will be something new to try for every visit! Step into their warm atmosphere of chandeliers and wine cases if you are in search of a one-of-a-kind dinner in downtown Franklin. 
Puckett's in downtown Franklin is filled with delicious food and interesting history – what was once a local grocery store in Leiper's Fork is now a growing restaurant chain throughout Middle Tennessee! Their menus of Southern cuisine, handcrafted cocktails, wine, local beers, and more has put Puckett's on the map, as well as their nightly live entertainment! Puckett's has a casual dining environment with eclectic decor and delicious food – try out their daily specials or award-winning BBQ! There are a few tables outside of the storefront for those who want to take advantage of good weather. Stop by for an evening of comfort food and live music! 
Red Pony offers a unique dining experience, serving southern favorites with a twist. With menus for appetizers, entrees, sides, and desserts as well as for beer, cocktails, and wine, Red Pony has everything you need. Their unique dishes and drinks cultivate a memorable meal in a cozy and warm environment. Try out Red Pony if you're wanting a sophisticated dining experience on downtown Franklin's Main Street!
55 South is a restaurant on Main Street in downtown Franklin, serving southern comfort food and drinks. Whether you are in the mood for seafood, chicken, barbeque, salad, or sandwiches, this local eatery has you covered! They also offer plenty of dessert options for those with a sweet tooth, along with menus of wine, beer, and cocktails! 55 South's historic brick building, delicious food, lively atmosphere, and unique decor are sure to make for a memorable dining experience!
JJ's Wine Bar hosts a vast assortment of wines, featuring Champagnes, French Whites, Chardonnay, Pinot Grigio, Sauvignon Blanc, Rosé, French Reds, Italian Reds, Cabernet Sauvignon, Merlot, Red Blends, Pinot Noir, Zinfandel, and more. Local art adorns the walls and there are dog-friendly outdoor seating spaces at this relaxed wine bar! Their wine-dispensing machine offers 28 different wines, with choices of 1oz, 5oz, or 8oz glasses – the wines are ever changing, so there is always something new to try! You are invited to enjoy upscale wines, delicious food, and a quaint atmosphere at the first wine bar in Franklin! JJ's Wine Bar finds its home in a building on the National Historic Registry, so take a sip of history at this local wine bar in downtown Franklin!
Looking for something fun to do this weekend? Shopping for antiques or curious about a restaurant? Wanting to volunteer your time with a non-profit, or just stopping by downtown Franklin, TN for the day? Access it all on FranklinIs.com. We encourage you to browse through the Living, News, Entertainment, Family & Kids, Real Estate, Visit, Resources and Events Calendar sections. There is something for everyone! 
FranklinIs a website dedicated to all things Franklin, TN and Williamson County! Supporting local non-profits, businesses, residents and visitors, FranklinIs the go-to place for all your Franklin and Williamson County needs.