The Best Holiday Gift Ideas
Article by Brianna Melanson
Originally published in Franklin Lifestyle
You love them – family, friends, significant others, kids, but boy, are they picky! So whether your beloved is practical or fancy, we've got a few suggestions on where to begin your holiday shopping. We've got you covered with personal and thoughtful gifts ideas.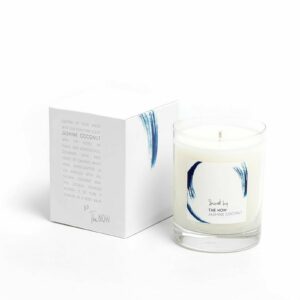 1. Scent by The NOW Jasmine Coconut 14 oz Candle
The luxury of a spa in the comfort of your home. The gorgeous floral fragrance from this natural coconut wax candle will fill your home while relaxing the mind. This candle is extra special because it doubles as a moisturizing body balm.
$48
TheNowMassage.com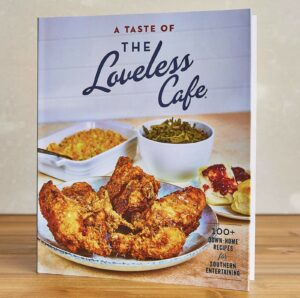 2. A Taste of The Loveless Cafe Cookbook
Great for out-of-towners who crave Southern meals or those who want to recreate famous dishes from the Loveless menu! With over 100 beloved recipes, you can enjoy favorites like chicken and waffles, biscuits, creamed corn, and Steeplechase pie. No wonder why the Loveless Cafe has been cherished since 1951.
$24
LovelessCafe.com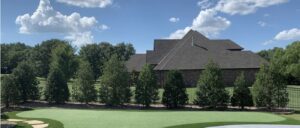 3. Putting Green
Let Music City Turf design and build a custom artificial turf putting green that performs just like a true PGA-caliber golf green in your own backyard.
Depends on project
MusicCityTurf.com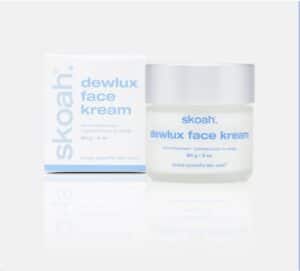 4. Skoah Dewlux Face Kream
A rich face cream with highly refined olive oil, shea butter, vitamin E, co-enzyme Q10, and lipoic acid. Apply to clean skin as needed. Has a dewy finish. Good for aging, dryness, firming and wrinkles.
$80
us.skoah.com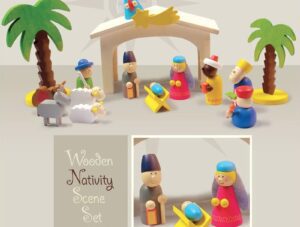 5. Rosalina Baby Wooden Nativity Set
Colorful wooden nativity set. Includes barn, manger, Joseph, Mary, three wise men, shepherd, two sheep, camel, mule, baby Jesus, angel, and two palm trees.
$39.50
PurpleButterflyKids.com
6. Peace. Love. Pickleball. Lightweight Hoodie
Pickleball has become one of the fastest growing sports in the U.S. over the last year, so chances are you know someone who is playing or wants to learn to play. Gift them with this adorable lightweight hoodie. Also available in black.
$32
The Tennis Store, 545 Cool Springs Blvd., Franklin, TN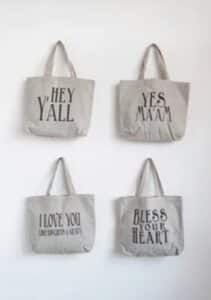 7. Southern Sayings Tote Bag
Southerners are colorful and have lots of sayings and expressions that you won't hear anywhere else. 14-1/2″L x 18-1/2″H cotton canvas tote bag with southern sayings and handles. Four styles available.
$21
ForkoftheSouth.com
8. The Bumblebee Bins Christmas Bin
ALL you need to let your little one's holiday imagination run wild in a precious NEW bin with a red handle!! In this bin, you'll get Santa, 8 reindeer, a sack to put the presents in, and most importantly, a foam TREE TO DECORATE over and over again!
$44
BumblebeeBins.com
Gifts that Give Back
Purchase a gift from one of these businesses and your gift will benefit another individual.  Tennessee locations offer onsite shopping and pickup, as well as shipping options. — By Karen Creason
1. Batch (Nashville, TN)
Specialized, high-quality gift boxes featuring locally made artisanal goods. Numerous themed gift sets are available and each purchase supports Make-A-Wish of Middle Tennessee.  Nashville Sweets Gift Set, $49, BatchUSA.com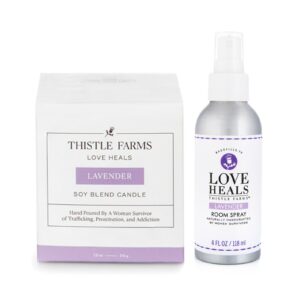 2. Thistle Farms Cafe and Shop (Nashville, TN)
Nonprofit which provides housing, healing and employment to women survivors of prostitution, trafficking and addiction.  Women learn job and leadership skills, by working in the social enterprise making candles and awesome bath products. Retail shop and cafe located in Nashville (shipping available). Bulgarian lavender room spray, $42, ThistleFarms.org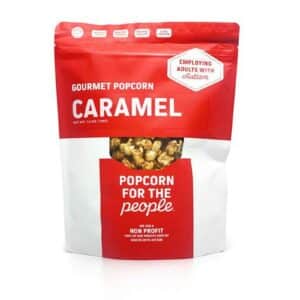 3. Popcorn for the People 
Nonprofit featuring gourmet popcorn bags and tins created, packaged, and sold by individuals with autism and other disabilities.  Eleven gourmet flavors with 100% of profits contributing to employing individuals with autism. Five cup bag, $7, PopcornForThePeople.com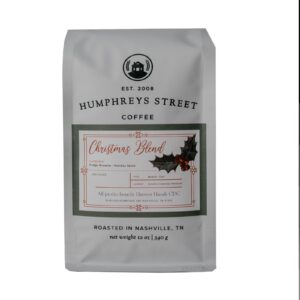 4.  Humphreys Street (Nashville, TN)
Coffee roaster and coffee shop which creates jobs, provides mentorship opportunities, and teaches job skills that empower South Nashville youth.  All profits are reinvested into programs and scholarship opportunities. 12-ounce bag, $20, HumphreysStreet.com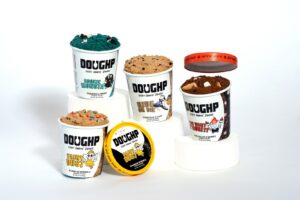 5. DoughP 
Real ingredients, really delicious edible cookie dough to enjoy raw or baked!  A portion of every purchase is donated to She Recovers Foundation. Best seller 4-pack (16 ounces each), $59, DoughP.com
6. Project 615 (Nashville, TN)
Celebrating Nashville's people, teams, organizations, artists, and places through products that locals are proud to wear including t-shirts, hats, bottoms, and accessories.  Supports world-changing causes and local non-profits. Spread Love classic tee, $28.95, Project615.com
7. John's Crazy Socks 
Featuring over 2000 styles of socks for people of all ages with sales benefiting the Special Olympics.  More than half the employees have differing abilities including co-founder, John (Down Syndrome).  Animal rescue socks, $13.99, JohnsCrazySocks.com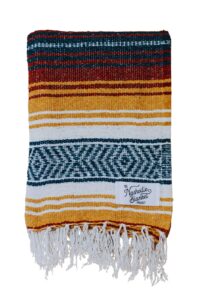 8. The Nashville Blanket Project (Nashville, TN)
Machine washable, ethically-made using 100% reclaimed materials, these blankets are meant to be used. For every blanket purchased, one is donated to Nashville-based nonprofits who work with those in need. Golden hour blanket, $65, NashvilleBlanketProject.com