The Autumn Artist Interactive – ONE WEEK COULD MAKE YOU A STAR
Article by Jessica Wayman
Photography by Provided
Originally published in Franklin Lifestyle
Franklin's award-winning pianist, Dr. Graciella Kowalczyk, is joining forces with vocal instructor Brett Manning and guitarist Mario DaSilva to offer aspiring musical artists a new program designed to accelerate them down the road to stardom called The Autumn Artist Interactive – a one-week intensive training in vocals, instruments, songwriting, and more.
Born in France, Graciella grew up attending music schools across Europe including the Chopin School of Music in Warsaw, Poland and the Tchaikovsky Conservatory in Moscow, Russia before finally receiving a doctorate in piano performance from the University of Kansas. Topping that off with several first prize awards in music competitions, Graciella boasts a stellar resume. As a piano professor instructing from her own studio in Franklin, Graciella's students have received scholarships to Boston University and other top schools and are winners of several competitions in classical piano.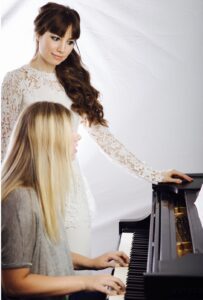 Brett Manning is a world-renowned vocal coach who has helped thousands of singers improve their talent including Taylor Swift, Keith Urban and more. Mario DaSilva is a studied classical guitarist with years of experience in musical education bringing together a rich fusion of influences and styles including flamenco and commercial. In this seven-day program, students will learn how to compose songs and to accompany themselves using piano and guitar. "Many of the singers around here play a little bit of guitar but struggle with being able to read music and it's so much easier for them to stay in tune while they play piano," said Graciella. The program includes piano lessons, guitar lessons, vocal lessons, and even pilates, yoga and breathing lessons. Students will also learn how to create a home studio and to record music. The program's big finale is a live performance held at the Factory in Franklin and a recording of the artist's own composition. "They're going to devote one week and probably achieve more than they would in
a year of going to different people and training a little bit here and there," said Graciella. The Autumn Artist Interactive will quickly take your rising music career to the next level.
For Graciella, the inspiration behind it all is sharing the benefits of musical training. Reading and playing music simultaneously involve the use of eyes, ears, muscles in the hands and feet, and breathing which, as a result, improves hand-eye coordination and dexterity. Music can also improve language comprehension by enhancing the ability to learn words and pronunciation. In addition to sharpening intellectual skills, music may even benefit people emotionally and behaviorally as it provides a sense of accomplishment and self-confidence.
The Autumn Artist Interactive welcomes auditioners ages 14 and up. AutumnArtist.org