Superstar Tim McGraw to perform at April 10 Recovery Court fundraiser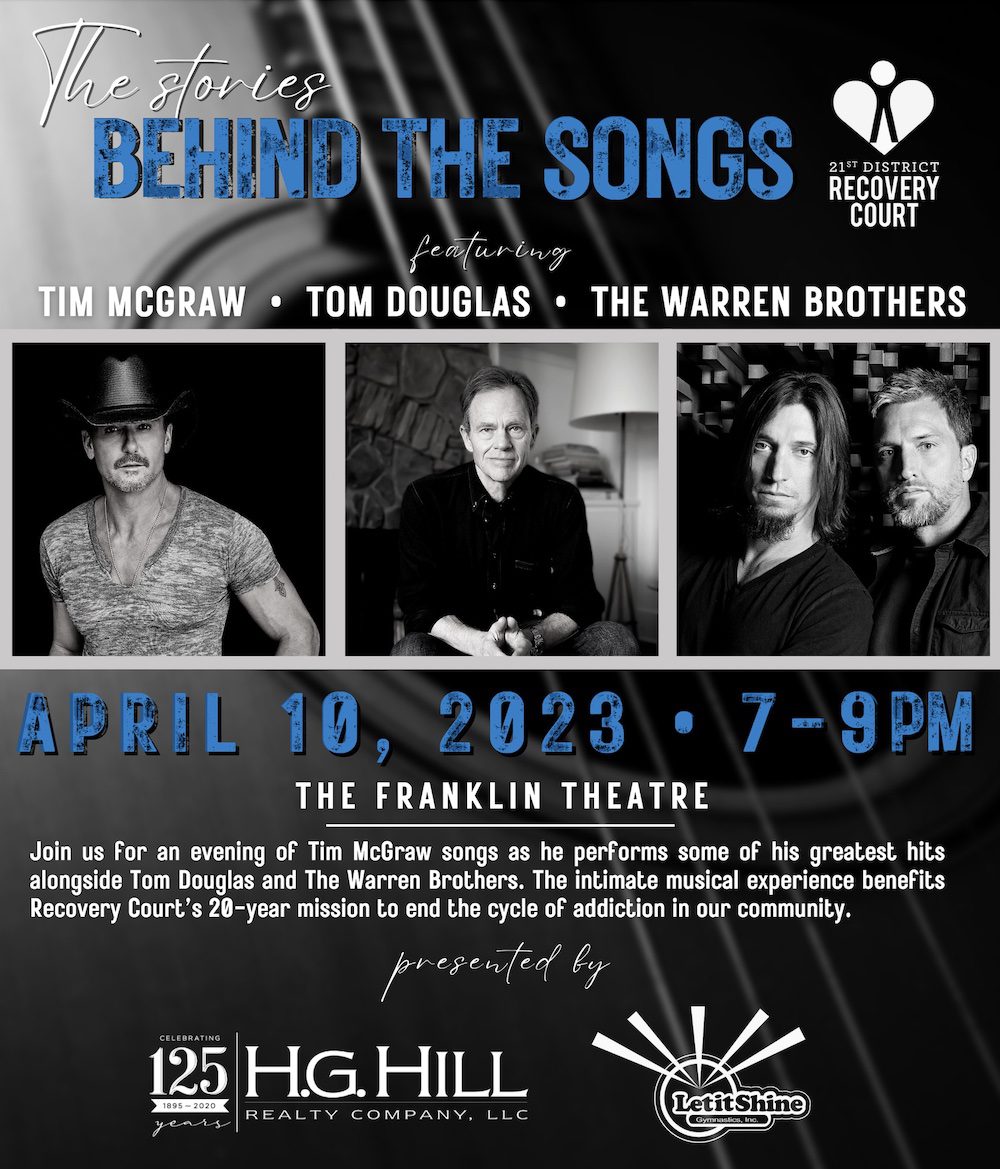 The Stories Behind the Songs with Tim McGraw, Tom Douglas and The Warren Brothers benefits the 21st District Recovery Court's mission to end the cycle of addiction in our community
FRANKLIN, Tennessee – Feb. 22, 2023 – The 21st District Recovery Court (Recovery Court) is hosting their first ever singer-songwriter night on April 10 at The Franklin Theatre. The intimate musical experience showcases the talents of Williamson County's very own Tim McGraw. The superstar entertainer, author and actor will perform some of his greatest hits in a songwriter in the round style event alongside Tom Douglas and The Warren Brothers.
The Stories Behind the Songs with Tim McGraw, Tom Douglas and The Warren Brothers will be held Monday, April 10 from 7 – 9 p.m. at The Franklin Theatre. Tickets are available at franklintheatre.com.
All proceeds from the event will go directly to Recovery Court to support its 20-year mission to end the cycle of addiction and crime in our community by providing accountability and compassion to non-violent offenders in the criminal justice system. "Both Brad and I have a passion to help those who are suffering from alcohol and substance abuse," said Brett Warren, who also serves on Recovery Court's board of directors. "This event is one of the ways we are supporting the addiction and recovery community and we look forward to joining Tim and Tom as we share the inspiration behind some of our songs."
Douglas is an Academy Award, Golden Globe and GRAMMY®-nominated songwriter and Nashville Songwriters Hall of Fame member who has written several McGraw hits, including "Southern Voice", "Grown Men Don't Cry", "Let It Go", "Meanwhile Back at Mama's", and "My Little Girl." McGraw has recorded more than 30 of The Warren Brothers songs including "If You're Reading This", "Felt Good on My Lips", "Highway Don't Care", and "Thought About You".
Presenting sponsors are H.G. Hill Realty Company and Let it Shine Gymnastics. Additional sponsors include: Buerger, Moseley and Carson, Gray Public Relations, Lacie and Kyle Simonton, Judge Deanna Johnson, Brett Warren and David Dingler. The event is in collaboration with Songwriter City.
The inaugural singer-songwriter event adds to Recovery Court's 2023 fundraisers. The annual Eat the Street Food Truck Festival will be held on Friday, June 2, and the annual Community Luncheon, which is rebranding from its breakfast format to accommodate growth, will be held on Monday, Oct. 30.
Recovery Court is funded primarily through grants and private donations, and receives no taxpayer funding. "Our program is not an easy way out," said Program Director Connie Martin. "The court only considers applicants demonstrating a genuine desire to confront their addictions. Those that are accepted undergo rigorous treatment and intensive monitoring as they learn life skills and new habits for successful living. Our model is unique in that it uses a non-adversarial, therapeutic approach to crimes rooted in addiction."
According to local law enforcement professionals, most crimes committed in our community are drug or alcohol related. Recovery Court has proven effective in reducing the revolving door of drug and alcohol related crime as well as reducing the cost to taxpayers. The program spends approximately $14,500 per participant annually compared to an estimated $35,000 to incarcerate each offender for a year.
Those who would like to support Recovery Court but cannot attend the event may make an online donation at 21stdc.org.
About Tim McGraw
Tim McGraw is a GRAMMY® Award-winning entertainer, author and actor who has sold more than eighty-nine million records worldwide and dominated the charts with forty-six number one singles. He is the most played country artist since his debut in 1992, has four New York Times bestselling books to his credit and has acted in such movies as Friday Night Lights and The Blind Side. McGraw recently starred beside Sam Elliott and his wife Faith Hill in the Yellowstone prequel and three-time Emmy nominated 1883. He is the founder and inspiration behind health and fitness brand, TRUMAV. McGraw is considered one of the most successful touring acts in the history of country music. His projects have spawned some of the most meaningful songs of all time, including "Live Like You Were Dying" and "Humble and Kind," whose messages continue to impact fans around the world.
About Tom Douglas
Tom Douglas is an Academy Award, Golden Globe and GRAMMY®-nominated songwriter. Douglas got his first song recorded by Collin Raye at the age of 41. That song, "Little Rock", reached #1, earned a nomination for CMA Song of the Year and achieved the Million-Air award from BMI for receiving one million spins on country radio. Since then, Douglas has written numerous number one hits, including: "I Run to You" (Lady A), "Southern Voice" (Tim McGraw) and "The House That Built Me" (Miranda Lambert). The Grammy Award-winning song "The House That Built Me." Douglas has written countless well-received songs for a wide range of artists, including: Keith Urban, P!nk, Luke Bryan, Celine Dion, Tim McGraw, Carrie Underwood, Florida Georgia Line, Kenny Chesney, Kane Brown, George Strait, Chris Janson, and Collin Raye among others. In 2011 Douglas' song, "Coming Home" received an Oscar and Golden Globe nomination for Best Original Song. In 2014, Douglas was inducted into the Nashville Songwriters Hall of Fame, subsequently receiving a Grammy Nomination for his song "Meanwhile Back at Mama's" recorded by Tim McGraw. Recent work includes "Drunk Girl" recorded by Chris Janson. He also penned the song "Dear Hate" recorded by Maren Morris and Vince Gill, earning the Grammy nomination for the 2019 Country Song of the Year. Douglas is currently signed to Sony Music Publishing, and lives in Nashville with his wife, Katie.
About The Warren Brothers
The Warren Brothers are an American songwriting duo. Brad and Brett Warren have written hits for Tim McGraw ("If You're Reading This", "Felt Good on My Lips", "Highway Don't Care", "Thought About You"), Toby Keith ("Red Solo Cup"), Keith Urban ("Little Bit of Everything"), Faith Hill ("The Lucky One"), Martina McBride ("Anyway", "Wrong Baby Wrong"), Dierks Bentley ("Feel That Fire"), Jerrod Niemann ("Drink To That All Night"), Jason Aldean ("Lights Come On", "We Back"), Blake Shelton ("Every Time I Hear That Song"), Chris Young ("Sober Saturday Night") and more. They've recorded songs by Luke Bryan, Little Big Town, Lady A, Thomas Rhett, Cole Swindell, Gary Allan, Tyler Farr, Billy Currington and many other A-list country artists. In addition, the brothers have also written songs for rock bands including Lynyrd Skynyrd, Nickelback, Hinder, Joss Stone and Boys Like Girls. They moved to Nashville from Tampa, Fla. in 1995 and in 1997 signed with RCA records, making three albums for RCA's sister label BNA Records. During that time, they toured with Tim McGraw and Faith Hill. As artists, they have seven Billboard Top 40 hits. McGraw took an interest in their songwriting and has recorded more than 30 of their songs. They were CMA nominees for Duo of the Year for six straight years and had GRAMMY® nominations for Song of the Year ("If You're Reading This") and a CMA Song of the Year ("Anyway"). In 2013 the duo won a Daytime Emmy for Outstanding Original Song for 'Good Afternoon America,' the theme song for the ABC program 'Good Afternoon America' which they co-wrote with Little Big Town.
About 21st District Recovery Court 
The 21st Recovery Court serves the 21st Judicial District. Program participants are non-violent offenders with a history of chemical dependency, which has shown to be one of the primary reasons for repeated criminal activity. The program works with law enforcement and the courts as participants engage in a highly supervised, two-year program, providing treatment, supervision and support. Graduates of recovery court programs have a low rate of reoffending, especially compared to those offenders supervised in traditional court probation and parole programs. Participants' recovery allows them to have a productive life while the community is served by a reduction in criminal activity and cost-effective treatment for offenders. Most importantly, the families and lives of the participants are restored to a safe and positive environment. Recovery courts in Tennessee are not supported by state judicial budgets, rather they are partially funded by a portion of statutory court costs paid by criminal offenders. For more information, visit 21stdc.org or call 615.595.7868.