Hybrid SUVs
Car companies have caught on to the green craze and producing increasingly more vehicles that are environmentally friendly. While small hybrid sedans are the obvious option for environmentally friendly vehicles, they are often not practical to use as family cars. Many parents are not ready to trade-in their gas guzzling SUVs for more compact cars. Parents know that their kids take up a lot of room, between car seats, the carpooling kids, the strollers and the baseball equipment– sedans are not a reasonable option. Car companies realize that it is hard for families to downsize to smaller vehicles and are now offering the same SUV favorites in hybrid versions.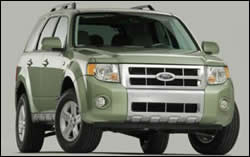 The Ford Escape Hybrid and the Mercury Mariner Hybrid are two smaller SUVs that each seat five people comfortably. The Escape hybrid and Mariner hybrid both get 34 miles per gallon (mpg) city and 30 mpg highway. Toyota and Saturn offer "Green Line" SUVs. The Toyota Highlander Green Line has an optional third row, and seats up to eight. The Highlander gets 27 mpg city and 25 mpg highway. The Saturn Vue Green Line is a compact SUV that seats 5 and gets 25 mpg city and an incredible 32 mpg highway. Impressively, Lexus is now offering a luxury compact SUVs, the Lexus RX400h. The Lexus hybrid SUV seats 5 but does get a lower mpg than the other compact SUVs, with 26 mpg city and 24 mpg highway.
For larger families that cannot sacrifice size for a more green style are in luck. The new Chevrolet Tahoe Hybrid seats up to eight and will be widely available in the next few months. Likewise, the Cadillac Escalade Hybrid guzzles less gas than the standard Escalade with 20 mpg city and 21 mpg highway.
Driving a hybrid vehicle no longer means that families have to give up comfort, space and towing abilities. Hybrid SUVs are becoming more widespread and are often available in 4-wheel drive. Going green doesn't mean your family has to be packed-in to a small sedan. There are plenty of hybrid SUVs that retain the look and capabilities of the standard versions but leave less of an impact on the earth's resources.