Franklin Sisters Preserving Southern Traditions with Podcast
Lainie Stubblefield and Laura Beth (Stubblefield) Peters love family, traditions, and all things Southern! They are the co-hosts of the Steel Magnolias Podcast which explores the culture of the American South and the why and how we cook the way we cook, decorate the way we decorate, host the way we host, talk the way we talk and much, much more! A passion project with long term vision, topics include food, hospitality, travel, regional events, college football, preserving the good, Southern etiquette all from the perspective of two lifelong Nashville natives with a lot of opinions!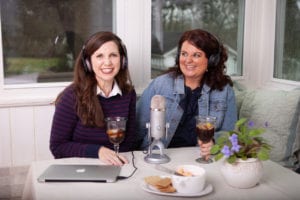 The sisters launched last November and say they started the podcast as an effort to preserve the good in southern culture, traditions, and ways of life, but also teach it to the next generation that is moving to the South, those whose ancestors did not grow up here. Podcasts are a fantastic way to learn and be entertained at the same time! If you haven't yet jumped into the world of podcasts they can be accessed through Apple Podcasts, Google Play, Spotify, Sticher, or iHeartRadio.
Lainie and Laura Beth hope the podcast will be an outlet to pass on all the good history that's here. "We want to make those new to southern culture feel that sense of welcome even if they think differently than us. The opening intro of our show each week says, 'There's plenty of room at the table, so pull up a chair!' " says Peters.
Follow the Steel Magnolias on Instagram @SteelMagnoliasPodcast