E|SPACES CELEBRATES SECOND LOCATION IN DOWNTOWN FRANKLIN
Bucky Ingram and Preston Ingram (owners of the 99 E. Main St. building), Jon Pirtle (president and CEO of e|spaces)
Festive Crowd Welcomes New Harpeth River Space on East Main Street
(FRANKLIN, TN, APRIL 21, 2022) — On April 20, e|spaces hosted more than 100 people in celebration of the company's new location at 99. E. Main Street in Downtown Franklin.
The new e|spaces – Franklin East Main sits along the Harpeth River on the corner of East Main and 1st Avenue. Taking up the entire second floor of the building, it has 17,000 square feet of offices, meeting rooms and common areas with soaring ceilings and large windows. The venue can also host special events for 100 or more people and has ample free parking.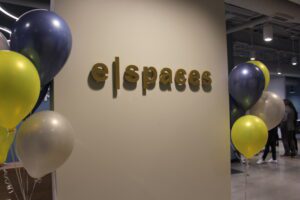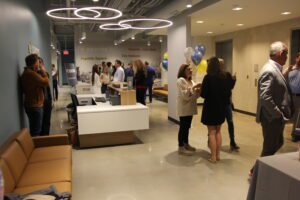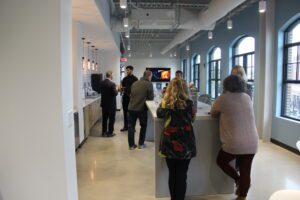 "It's wonderful to officially open the doors of the East Main location, and it's a result of a lot of hard work from our team," said Jon Pirtle, president and CEO of e|spaces. "The reception from the community has been incredible, and we were happy to celebrate with so many friends, colleagues, local leaders, e|spaces members and prospective members."
Franklin East Main joins existing Middle Tennessee e|spaces locations in Downtown Franklin (231 Public Square) and Green Hills (10 Burton Hills Blvd.). Additionally, the company will open a 30,000-square-foot location in The Nations neighborhood in Nashville in May 2022. Other locations include Chattanooga, Knoxville and Orlando, FL. Members have access to all e|spaces locations.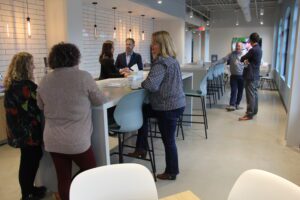 e|spaces offers Budget-friendly monthly and annual memberships, and rooms are also available on an hourly and daily basis.
ABOUT e|spaces
e|spaces combines the functionality of executive suites, coworking space and shared offices to create a professional environment and community for entrepreneurs, small businesses and corporate teams. e|spaces offers meeting, office and coworking space, along with amenities such as 24/7 access, onsite assistance, free parking, coffee and snacks, business-class internet and IT support. e|spaces offers an ideal workspace for a corporate team to focus and complete a project off-site, or a business that's expanding and needs space in transition, and everything in between. For mobile professionals, it is a hub for when collaborative space or meeting rooms are needed.
###