Comdata® Celebrates Truck Drivers in June with Driver Appreciation Month
Leading fuel card and service provider to highlight drivers during its 50th anniversary celebration
BRENTWOOD, Tenn.–(BUSINESS WIRE)–Comdata Inc., a FLEETCOR company and a leading provider of innovative payment and operating technology, will spend June honoring the 3.5 million professional drivers who "make America run." This month, Comdata will highlight America's truckers through a marketing campaign while sponsoring a number of events, social media contests and giveaways.
"At Comdata, we know how tough it is to be a driver," said Greg Secord, President of Comdata North American Trucking (NAT). "That's why we want to show appreciation to those professionals who spend their days and nights on the road."
Drivers can follow Comdata on Facebook for details about activities and giveaways.
According to the American Trucking Associations, America will be short 175,000 drivers by 2026. Comdata created Driver Appreciation Month to raise awareness around the importance and value of truck drivers to the economy.
"Drivers play a central part in our everyday lives," said Secord. "Without this skilled workforce, the cost of goods would rise dramatically."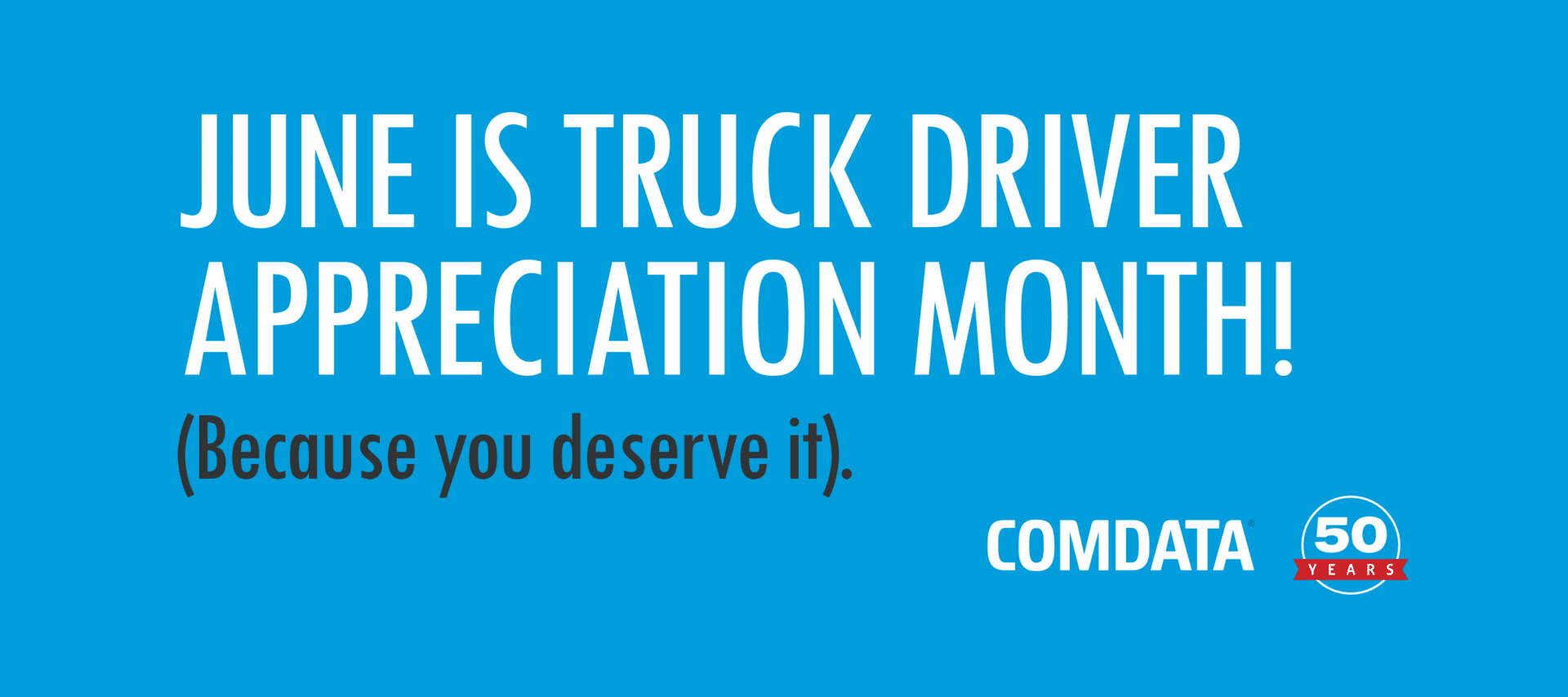 In addition to encouraging more drivers to enter the industry, Comdata also provides current drivers with different services to enhance their driving career and level of talent. Drivers can rely on Comdata's breadth of services to stay compliant, lower operating costs and access capital from a single source.
Drivers aren't the only thing Comdata will highlight this month. This summer, Comdata will also celebrate its 50th anniversary.
"Seasoned drivers have been using Comdata and its solutions for fifty years," said Secord. "Our products and services have been instrumental in making lives and trips easier for truck drivers."
Founded in 1969 by Curtiss W. Harter Jr., Comdata helps companies across various industries streamline payment processes, save money and generate additional revenue.
As Comdata looks ahead to the next fifty years, one thing remains constant.
"We strive to develop new tech and solutions to make lives easier, and drivers play one of the most important parts in our industry," said Secord.
About COMDATA
Comdata Inc., a FLEETCOR company, is a leading provider of innovative payment and operating technology that drives actionable insights from spending data, builds enhanced controls and positively impacts its clients' bottom lines. The company partners with more than 30,000 businesses to better manage $55B in annual fleet, corporate purchasing, payroll and healthcare spending, making it one of the largest fuel card issuers and the second largest commercial MasterCard provider in the United States and Canada. Founded in 1969 and headquartered in Brentwood, Tennessee, Comdata employs more than 1,300 professionals across North America. To learn more about Comdata, Inc., visit www.comdata.com.
About FLEETCOR
FLEETCOR Technologies (NYSE: FLT) is a leading global provider of commercial payment solutions. The company helps businesses of all sizes better control, simplify and secure payment of their fuel, toll, lodging and general payables. With its proprietary payment networks, FLEETCOR provides affiliated merchants with incremental sales and loyalty. FLEETCOR serves businesses, partners and merchants in North America, Latin America, Europe, and Australasia. For more information, please visit www.FLEETCOR.com.