Sophisticated Looks That Weather the Heat
By Candace Hutchins

The summer is here and in the South, it is HOT. For women that do not spend everyday poolside, how can you manage to look fresh and pretty without looking too casual or being too revealing? It may not be realistic to get done up every morning like the coveted girls from Sex and the City…BUT it is possible to create a pulled together look that stays attractive and wearable in the 90-plus degree heat. Here are two ideas for summer outfits that can be customized to fit any age and with pieces available for any budget: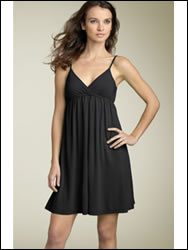 One simple solution for creating a look that battles the weather but is nice enough for lunch date or an evening concert, is the tried and true jersey dress. Paired with a pair of metallic flats and jewelry, a basic dress becomes a fashionable outfit.
Yes, jersey dresses are not new to the fashion scene. They are simple but they give less daring fashionistas a chance to express themselves with bolder shoes and accessories. If your weathered jersey dresses have become this season's beach cover-ups, you can still find them in stores everywhere. Basic jersey type dresses can be found in large department stores, at chains such as Target, or in local boutiques. Labels such as Splendid and James Perse are faithful options, as are the classic basics at American Apparel and J. Crew.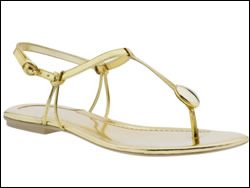 Dressier flats are more acceptable footwear in many settings than plain rubber flip-flops but do not sacrifice comfort on a hot day. Jack Rogers, Bernardo, Lilly Pulitzer, and Steve Madden are among the many labels that have been active participants in providing dressier looking sandals with leather, jeweled, and metallic flats. To dress up for a night on the town, produce a totally new look with a pair of low-heeled sandals, a few bangles, and a satin clutch.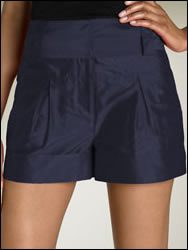 Chic shorts are another good option to stay cool in the summer heat but still look nice. Do not hesitate to try-on shorts simply because they have not been flattering on you in the past. Shorts are popular in many different lengths and shapes—from short-shorts, to knee length and parachute style to tight fitting. The key to keep trying-on different styles until you find the perfect pair. Ann Taylor has adorable shorts with printed designs, Old Navy carries more casual and budget-friendly shorts, and designers such as Diane von Furstenberg and Theory have dressier tailored shorts.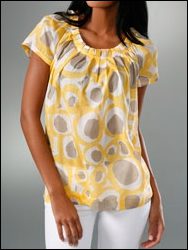 A fresh look that coordinates with a variety of shorts styles is loose-fitting peasant tops. Many of the current peasant tops, either short-sleeved or sleeveless, are made of lightweight cotton, gauzy fabrics, or thin chiffon. Shirts made of these fabrics are breezy and comfortable on hot summer days but retain a polished look that is stylish enough to wear day or night. Ella Moss and Catherine Malandrino both make great quality peasant tops that are available in boutiques or upscale department stores. For the mallrat, Banana Republic and tops by Kensie (available at Dillards) are good options.
So, it is possible to create a sophisticated outfit that will withstand the heat of the Southern Summer. All you need to do is remember stick to basics, get to your favorite local shopping venue, and create a look that reflects your own personal style.