An Interview with Matilda
Both dressed in denim blue, Reese Benton and Reagan Schmicker came to our interview excited and talkative.  They are the stars of Matilda, The Musical directed by Act Too Players in Franklin, TN.  With the show having a double cast, it was fun to hear the different perspectives that each girl had on starring in the show.
Reese Benton is in the opening night cast for Matilda, The Musical.  Reese is ten years old and entering the fifth grade at Grassland Elementary School.  She has been involved in theatre for about 3 years and her parents were one of the major reasons for her love of theatre.  Prior to Matilda, The Musical, Benton appeared in The Jungle Book, Schoolhouse Rock, Moana, The Little Mermaid, Beauty and the Beast, High School Musical, Mary Poppins Returns, and many more.  All of these shows ran at The Franklin Theatre both professional productions and summer camps.  She currently takes vocal lessons and dance classes to stay prepared for roles; furthermore, she is returning to gymnastics this fall.  Benton shared that her stage inspirations are Emma Watson and Sondra Morton, Director of Act Too Players.  In her free time, Benton loves to read especially the Harry Potter series.  Her favorite musicals are Charlie and The Chocolate Factory, Anastasia, Peter Pan, The Little Mermaid, and Matilda, The Musical.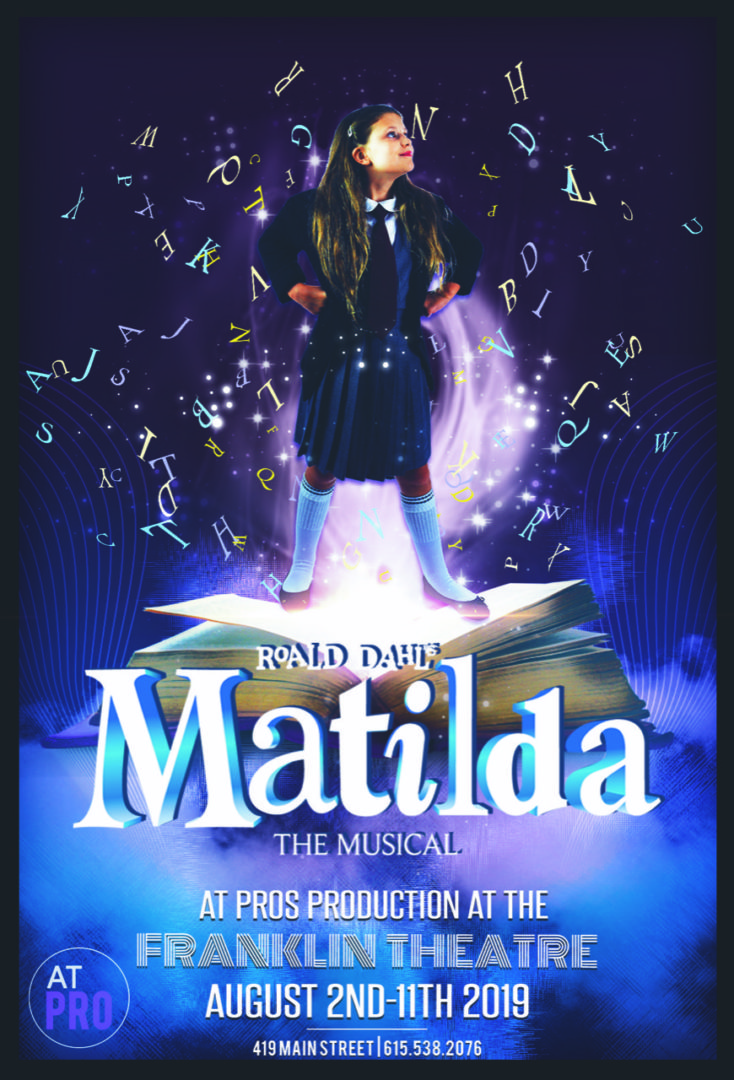 Reagan Schmicker is as charming as she is talented.  Recently moved from California, she is eleven years old and a sixth grader at Brentwood Middle School.  She talked excitedly discussed her involvement with the theatre program at school.  Though new to Act Too Players, she has already made a place for herself.  Prior to Matilda, The Musical, she was cast in Frozen, Mary Poppins Returns, A Winter's Tale, and Honk Jr.  In her free time, Schmicker loves to read, swim, and play ping pong.  She is taking up tennis this fall.  Her favorite musicals are Anastasia, Mean Girls, and Matilda, The Musical.
While this isn't Schmicker's first show at The Franklin Theatre, like Benton, this is her first professional show.  Both girls expressed how excited they were to be in a show with professionals who perform for a living.  They both spoke highly of the cast and love being included in such an incredible group of professionals.  Morton proudly talked about how both the girls have managed to create a place for themselves in this cast and stand on their own two feet.  According to Schmicker, the most difficult part of the show was learning how to act like a serious and mature five year old, while Benton said that memorizing the long monologues with hefty and elevated speech gave her the most difficulty.  Both actresses are excited for audiences to see the huge numbers with complex choreography.  It is an entertaining show and they both hope kids and adults alike love the show as much as they do.
Matilda, The Musical, opens this Friday, August 2, 2019 at 7 PM and will run through Sunday August 11, 2019 at 2 PM.  Check out the Calendar on FranklinIs.com for more showtimes and ticket deals.  This show is sure to be a thrilling experience for people of all ages!
by Emily Stone
July 31, 2019