Always Have Music
By Katie Volz
Music is an absolutely essential ingredient to a good wedding. Music works as an organizational tool for both the ceremony and reception.
The processional into the ceremony, for example, and the traditional first dance both rely on great music. The music for your wedding also gives you an opportunity to add personal touches. Most importantly, great music is the key to a rockin' reception!
The ceremony
David Nuding, owner of Blue Tone Music, says that music is most important in the processional and recessional. Nuding also points out that "most of the music happens in the prelude, which the bride and groom unfortunately do not hear, but it sets the tone for the whole ceremony."
Most musicians will charge by the ceremony, unless it is especially long, and by the musician, so you can utilize as many or as few as you want within the ceremony for the same price.
"You can have a wonderful ceremony with just a classical guitarist, or a pianist and a vocalist," Nuding says.
Music can also be a great way to personalize your ceremony and make it even more special for you and your fiancé. My friend, Mike, when arranging the music for his wedding, asked musician friends to play during the ceremony.
"It is such a Nashville thing to do," Mike says, "to have your friends play music at your wedding. Everyone knows someone who is a musician in Nashville."
The reception
Music can make or break your reception. Whether you plan a small cocktail hour or an all-out dance party, the music will be essential to the atmosphere of your celebration. You have to select music that not only displays your personal taste, but also allows for everyone from your parents' friends to your little cousins to have a great time.
Getting your friends involved: As with the ceremony, a great way to personalize the music at your reception is to have musical friends get involved in the entertainment. If you have friends in a band, ask them to play a few songs. This will cater to your peers at the wedding and can make for a very memorable evening.
At the same time, you might want those friends out there with you on the dance floor. David Nuding recommends that couples hire a professional, or have additional music planned, so that your musically gifted friends can also participate in the celebration.
"There is so much talent in Nashville," Nuding says, "why not use it?"
Doing it yourself: One way to ensure that all the music at your reception is music you want to hear is to create a play-list yourself on your computer or MP3 device.
"I spent a huge amount of hours working on that mix and had backup mixes just in case," a friend told me.
If you want to control the music by making your own play-list, it is a good idea to ask a friend (or maybe have a rotation of friends) to control the play-list during your reception. This insures the bride and groom won't have to worry about what's coming across the speakers.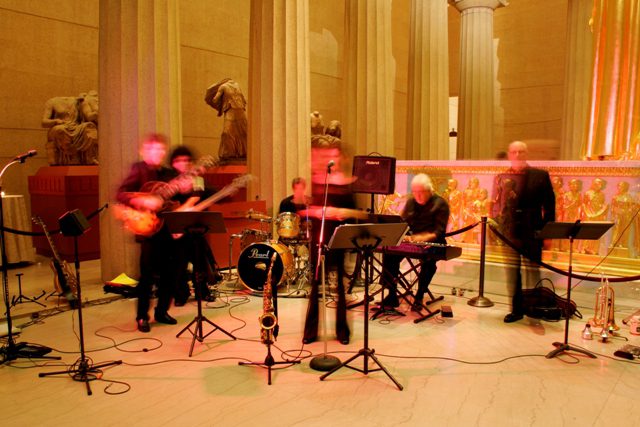 Hiring a band: A live band is a great way to get your guests in the mood for dancing.
"There is something about watching somebody sing a song live," Nuding explains, "that just brings a priceless energy to an event."
It is, however, essential that you find a band will suit your taste while pleasing guests of all ages.
Local Wedding Planner Polly Bibb recommends: "Always hold a live audition with a band to get a good sense of their stage presence and group dynamic because these factors will greatly effect the tone of your reception."
If you attend a wedding with a great band at the reception, try to book them for your own reception, or take note of exactly what makes the band so fun, and use it as a basis for what you will look for in a band. Many bands will learn the song you want for your first dance (or other traditions such as the father/daughter dance) if it is not already in their repertoire. Always check with your venue to make sure it can accommodate the band and its equipment.
Hiring a DJ: A DJ can be a great way to celebrate your wedding. A DJ can provide live entertainment and often at a lower price than a band. It is important to meet with prospective DJs and find one who works well with your taste and personality.
Other things you need to pay attention to when hiring a DJ are their insurance policies, guarantees and electrical needs. For example, you should make sure that your venue could accommodate the DJ's equipment. As with any vendor you hire, always check references and ask for testimonials from happy customers. If you have seen a DJ that you liked at a friend's wedding, ask for his business card. The best way to know if a DJ will do a good job for you is to see them first-hand.
Most importantly, a good DJ will work well with you in the planning process, helping you to pick songs and listening to your ideas.
Final thoughts…
Whether you choose to hire a band or DJ, or take charge and do it yourself, you should put a significant amount of time into planning the music for your reception.
The music should first and foremost reflect your taste and style. It should also create the ideal atmosphere for the kind of party you want to have. If you want a classy cocktail party, a harpist may be the way to go. If you are going for a unique and fun dance party with a live band, an '80s cover-band might be just the ticket.
There is a musician, or style of music, to suit every kind of party imaginable, so explore your options and do your homework, to ensure that your reception is everything you want it to be.