Ms. SR Williamson County Age of Elegance Pageant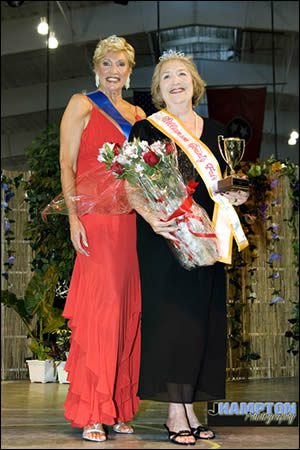 Some of Williamson County's loveliest ladies will be on hand to help celebrate mature beauty and talent Sunday, August 5, at the
Williamson County Fair presented by Tractor Supply Company.
Women 60 and over are invited to enter the county's Ms SR Williamson County Age of Elegance pageant for a chance to win prizes and go on to a statewide competition. The event highlights Senior Day presented by Humana MarketPOINT during the Fair's opening weekend, when seniors 55 and over can enjoy free admission and special events. 500 complimentary tickets that include Fair admission, bingo and a free lunch in the newly
air-conditioned arena, will be distributed through local senior centers
beginning in mid-July on a first-come, first-served basis.

"Senior ladies are in the age of elegance and have a lot to give
by the time they get there,"
says Gloria O'Steen, pageant co-chairman.
"These ladies are funny, intelligent and have a real good sense of self
worth. We ask them to show us talent, poise, charm and their inner beauty –
not just outer beauty."
Applications are due July 26 and are available online at the
Fair's website, www.williamsoncountyfair.org. Contestants will be honored
at a pre-pageant brunch on July 20, during which they will be coached on
stage makeup, walking on stage, talent presentation and interview skills.

On the day of the pageant, August 5, contestants will meet for
lunch at noon and begin interviewing with judges at 1 p.m. Judges this year
include music industry veteran Tandy Rice, who has judged numerous pageants,
including Miss America.

Judging will be based on interviews, evening gown modeling,
talent and delivery of a 30-second talk on each contestant's philosophy of
life. Talent demonstrations should be no longer than two minutes, 45 seconds
in length; talent is defined by pageant officials as "pantomime, talk,
singing, dancing, playing a musical instrument, dramatic reading, art
display, dress designing, creative poetry, demonstration of "how-to-do"
something.

"When we talk about talent, we're not talking about American
Idol," says O'Steen.
"One contestant last year demonstrated how to do the
Twist. We are talking about that inner beauty that shines through when you
perform onstage, whatever you decide your talent is."

Contestants must be Williamson County residents, or have owned a
business in Williamson County for three months, and must have reached the
age of 60 by the time of the pageant. The first-prize winner receives a $100
donation to the senior center of her choice, a crown, flowers and an
all-expenses-paid trip to the state Ms SR Age of Elegance pageant in
February 2008. First and second runners-up will receive flowers and a
memento of the pageant. The first-prize winner will become a member of the
pageant executive committee.

Last year's Williamson County winner was pageant co-chair JoAnn
DeFriese, who will host the July 20 brunch; Mary Howard, pageant co-chair,
was 2005 Ms SR Age of Elegance winner in Williamson County.

About the Williamson County Fair presented by Tractor Supply Company
The third annual Fair will be held August 3-11, 2007 at the Williamson County Ag Expo Park in Franklin, Tenn. Tickets are $6 for adults and $3 for children, and parking is free. Additional information is available at http://www.williamsoncountyfair.org/
or (615) 794-4FUN. The Fair is a 501(c)3 non-profit organization.
Photograph by JHampton Photography.