Trey Gray: 5 Random Questions
Trey Gray has had a successful career as a professional drummer. Gray played with Faith Hill on her climb to fame for seven years and then played with Jewel. He is now the drummer for the popular country duo, Brooks and Dunn. In 2003, Trey Gray tested positive for the Huntington's disease gene and has since been committed to supporting research and raising awareness about HD.

Recently, FranklinIs got to know Trey Gray, the drummer for Brooks & Dunn, through a brief, 5 question e-chat interview.
FI: If you didn't live in middle Tennessee, where would you want to live and why?
Gray: Madrid,Spain. The people and culture. It's all about faith, family,and friends. They are passionate about those things.
FI: What were your expectations when you moved to Nashville? Do you have any advice for aspiring drummers?
Gray: When I moved to Nashville in 1990 I was only hoping to start working as a drummer. It was such a different time back then. A little easier in my opinion. My friends and I use to call it the "3-5 year town". If you didn't make it that time frame then maybe you should think about doing something else. It was of course our own little joke about working hard.
My advice for aspiring drummers is very simple. Do it for the right reasons, lose the attitude, be yourself, and always keep an open mind.

FI: When not on tour, what do you enjoy to do in your spare time?
Gray: I enjoy spending time with my family. My daughters Spencer, Romey and Chloe, my son Ben, and my wife Lisa. I also enjoy producing. I have a small studio and love developing bands and artists own unique sound.
FI: What is your favorite stage to perform on and why?
Gray: Actually I have two. The Beacon Theater in New York City, and Royal Albert Hall in London. Both because of the way they sound and all of the great history.

FI: Tell us about your involvement in raising awareness about Huntington 's Disease and how others can help others.
Gray: I became the official spokesperson for The Huntington's Disease Society of America earlier this year and I'm very flattered to be involved. They use my "celebrity" to help spread the word about this horrible disease. When I use the "c" word it's because it is what they call me yet I by no means think that I am a celebrity. I'm just lucky enough to work for some. I'm hoping to put a face on this terrible disease and to give other families hope and faith to know my generation will be the last to have to deal with this.
People can help by going to the web-site hdsa.org. There you can find ways to volunteer, make a donation or just lend support to a family going through this disease.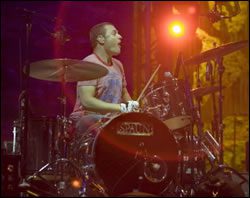 Trey Gray was born in Indianapolis, IN, USA as George Lewis Gray, III to his father, George and mother, Cindy. His passion for drums started at the early age of 6 and it was then that he knew his destiny. Gray had his share of rough starts yet always stayed focus on what he loved the most.
"I remember seeing a commercial for the band KISS on TV. I couldn't keep my eyes off the drummer" says Gray. That led to many broken pots and pans and his first drum set for his 10th birthday. "I played them all the time. I never even thought of doing anything else for a living, he recalls."
It wasn't until right after high school that Gray's first big break happen. While playing in a local band in Indiana, the guitar player in that band had a friend who moved to Nashville a couple of years earlier and was going to be stopping by the club to say hello. By the end of the night he had Gray convinced that he played good enough to move to Nashville. "Six months later I was living on his couch and learning, playing and meeting as many people as I could". That all paid off, Gray was getting to play and meeting lots of musicians.
All that lead to an audition for an up and coming country singer named, Faith Hill. "That was a huge turning point in my career. The next seven years were like being on a great roller coaster ride that you never wanted to get off. It was during that seven years other life changing events happened. Marriages, kids, divorce, travel to new places, being on television, getting to play on records, shooting videos. I was even fortunate enough to win a "Drummie" Award which I gave to my dad."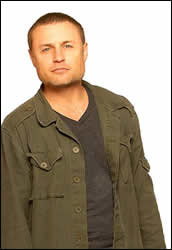 After Gray ended his seven year run with Hill he started playing with Jewel. That was in 2001 and also when he first started feeling not quite right health-wise. "I was having times when I would feel fatigue or off balance, for what seemed like no good reason. Sometimes my moods would change on a dime, or it was hard to leave my hotel room."
Having turned 30 a few years earlier Gray thought that he was just getting older and his body was starting to wear a little bit. Then the next year, 2002, he found out his uncle was diagnosed with something he had never head of, Huntington's Disease. It was shortly after that the same year that Gray's mom, Cindy tested positive. Luckily, his only blood sister, who is 18 months older tested negative. "That did make me feel better and even gave me some hope, but I knew…..you know how your body feels? In January of 2003 I tested positive to the gene as well."
He continues to travel and play all over the world and actually started working on another passion, producing and developing new artists. "I was blessed with a new marriage. God brought her to me to help me through all of this. He has given me so many blessings, HD is one of those blessings actually."
This year Gray became The National Spokesperson for HDSA.org and because of what he does Gray hopes a few more people can find out about HD and want to donate to a worthy cause. "We can all make a difference and we will find treatment but most important a cure."
Tg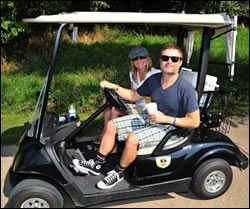 Click here to donate to Trey's funraiser to support research and treatment of Huntington's Diesease in Tennessee. The site says, "Together we can take aim at Huntington's and help 14,000 people in Tennessee whose lives are affected by HD. We want to form an Affiliate, start support groups, and work towards having a Center of Excellence in TN".
On September 29, 2008, Trey Gray held the 1st annual Trey Gray "Tee off for a Cure" to support local and national research and treatment of Huntington's Disease. Kix Brooks was the honorary chair of the event.
Visit Trey's MySpace page to keep up with upcoming events and information about the 2009 Tee off for a Cure.