Think Globally and Act Locally
A letter from Beverly Burger, Service Day Chair
Our IAHSP Service Day Story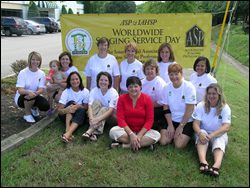 The week of September 10, 2007 was very special week for the IAHSP – Nashville Area Chapter. Eleven members of our chapter came together to make a difference for a very worthwhile organization in our community, Against the Grain Ministries (AtG). AtG is a vital non-profit ministry to single mothers and children just south of Nashville in Franklin, TN / Williamson County.
This was truly a service project from our hearts! Being that we are all females in our IAHSP chapter, we could relate to this wonderful ministry that serves women and children and we can say we truly served from our hearts! We were blessed to be able to give back something of value to our community. We were able to "Think Globally and Act Locally" through the world of Home Staging as we helped to turn an office, a training room and a counseling room into a warm, inviting, and a conducive place for healing and learning for hurting, struggling women and children.
Through this organization and ministry women are nurtured, taught, and mentored in skills that will help them be productive citizens of their community, city, state, country and world. Skill building in parenting, finances, daily living, self esteem, along with teaching marketable computer skills by AtG Ministries, gives these women hope for their future as well as their children's. Tutoring the children in reading and academic learning also assist these mothers in making sure their children get off to a good start towards a successful and productive life.
As ASP's and members of IAHSP we were honored to be able to help AtG Ministries in Franklin, TN and show how much we care through giving and sharing of our time, talents and our IAHSP team sprit that is modeled so well by our founder, Barb Schwarz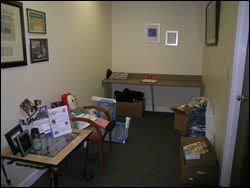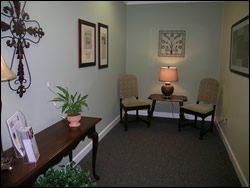 Above is one example of how we transformed an entrance. The before picture is on the left and the after picture is on the right.
What we did:
The Nashville area IAHSP Chapter staged the entrance area, counseling and training rooms of AtG Ministry offices, transforming them from basic white walls, plain, sparsely furnished, and unorganized into warm, pleasant, inviting, efficient and functional spaces where young single moms come for direction, counseling and to participate in a two year long program.
Our Staging Services in the end also help to better accommodate the wonderful people who run this ministry and make their surrounds much more pleasant and functional.
AtG helps educate single moms with marketable computer and technical skills, financial skills and parenting skills that will help them find employment, run their own household, and be good parents to their children. Best of all, AtG helps these mothers build self esteem and self worth so they will be encouraged to forge ahead and provide a healthy and stable environment for themselves and their children. (www.atghope.org )
The true test of the success of our Service Day:
The people who run and volunteer at AtG Ministries were so grateful for all we did for them, but the true test of our Service Day Project's success came only 3o minutes after we all packed up and went home. Within an hour of arriving home I received a phone call form the founders of AtG Ministries and they said, "I just had to let you know that within 30minutes after you ladies left a Mom and her five year old, who had never before been to our offices, came in for counseling and help. As they sat there, hurting and in need, the little five year old kept looking around the room and finally said, "I like it here, I like this office, it is really nice."
For hurting people in need- to feel warm and accepted in a very comfortable setting is the start of the HOPE that Against the Grain Ministries offers. We are glad we are now a part of that HOPE!
Sincerely,
Beverly Burger, ASP, IAHSP
Service Day Chair
Nashville Area Chapter
turninghouses@comcast.net
615-498-4794