The Perfect Wedding Gown
By: Candace Hutchins
If we're all just a little bit honest, we'll admit that wedding gowns are typically the first things a newly engaged woman thinks about. Selfish, yes…but it's the truth.
Little girls admire photographs of their mother's wedding gown and dress their doll in lacy white polyester sheaths. As they grow up their sense of style matures and reflects their maturing personality. Women admire wedding gowns with a critical eye, silently noting how they would make it different if it were theirs. Finally when women are ready to pick out a wedding gown, whether new, old, blue or borrowed, the fuzzy image of their dreams finally transcends.
Even though she wears it only once, the wedding dress is something the bride puts her heart (and usually her daddy's wallet) into. The wedding gown is everything to the bride. It is hers, unseen by her finance, hand-selected by her, and although the image has morphed over the years, it is the dress she has been dreaming about since she was a little girl.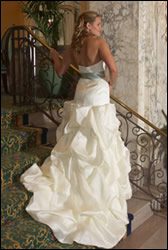 Trending toward the perfect gown
The wedding dress is arguably the least outrageous wedding trend, especially among more conservative brides in middle Tennessee. Wedding gown trends evolve slowly, like summer days in the hills. While looking back on the big sleeves and poof of the 1980s, it is easy to chart the evolution of the wedding dress into the sleek, strapless styles that have become familiar during the past decade. In the end, wedding gowns are as a unique as a bride's fingerprint and are based on the bride's personality, figure and personal style.
Some wedding gown trends have hit the high-fashion runways but could be a staple at southern weddings as soon as next summer. Trendsetters might be cutting loose, sporting dresses with shorter hemlines.
Classic cuts and embellishments make short wedding dresses distinguishable from generic white cocktail dresses. Short dresses are also a sensible option for outdoor or destination weddings. Grecian-inspired, one-shoulder wedding dresses in short and long styles mimic today's casual fashion trends. Wedding gown styles are detouring from fitted dresses and billowy, loose styles are gaining popularity. As for accents, designers are experimenting with fabric corsages on the top of wedding gowns or other large flower accents on the skirt.
High-fashion black wedding gowns are hitting European runways and inspiring black accents on wedding gowns stateside. Local wedding gown boutiques are no longer surprised to see ivory, blue, pink or sage gowns in Tennessee or on top designer's runways.
"Even through we are in the Southern Bible Belt, wedding gowns are not restricted to traditional pure white anymore," says Jan Edens, manager of Brides by Sugar Drop in Brentwood.
Brides by Sugar Drop, owned by Carol Spining, is contracted with the designer Sophie Tolli who has added wedding gowns that are platinum and tinted pale blue to her collection. Ivory dresses are particularly popular and come in various shades, ranging from a pale nearly white tone to darker buttery tones. Brides that cannot commit to a complete color change are tending to choose ivory or pastel sashes or embroidery that contrast beautifully with white wedding gowns.