Graphic Design
By: Candace Hutchins

Graphic Design
Graphic design is a recent trend that makes weddings truly unique. Once engaged and the date set, many couples have begun to think about how they can brand their special day. The way they picture their wedding day, whether romantic, elegant or contemporary, is reflected in the way they want to brand the event from start to finish. Incorporating a customized graphic design in aspects throughout the wedding makes the occasion truly personal.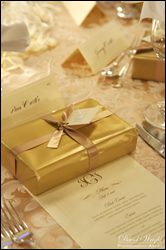 Couples are hiring graphic design artists, using pre-made design ideas or creating their own branding. Our parent company, JLB, features great graphic design of all types (our Creative Director, Micah Jones, even designed a seal for he and his wife, Elly, and he letter-pressed his own invitations!). Designs range from standard monograms to abstract artistic images. As they develop custom graphic designs for their wedding, couples come up with color themes, patterns and symbols that they want to represent them.
Some graphic designs for weddings combine the couples' initials, their wedding date and even the location if appropriate. Couples choose to use designs for all their wedding stationery including save-the-date cards, the wedding invitation, on thank-you notes or on their wedding Web site.
Monograms
Monograms are a classic staple that always create a distinctive and elegant look. Modern wedding monograms are designed to reflect the couples' attitude, whether traditional or mod. One way to design a couples' monogram is to have the new, shared last name initial large in the middle flanked by the bride's first initial before and the groom's first initial after.
For a bride keeping her last name, couples use a four-initial monogram. Another popular alternative is to create a monogram with two letters, using the bride and groom's first initials. Monograms are personal, and designers can alter fonts to create the exact style that a couple wants.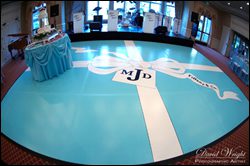 Although older, more conservative guests may frown upon presenting new monograms before the ceremony, couples today are comfortable debuting their new look from the first notice of their engagement. If couples do feel uncomfortable using their shared monogram before the ceremony, the wedding reception is the perfect place to unveil it.
At the wedding reception, personalized logos are often seen on the menu, place cards, table numbers, the guestbook and on the wedding favors. Embroidering monograms or the wedding date is another option. The couple can have anything embroidered with a special monogram. Some common embroidered items include the aisle runner, the ring bearer's pillow, the bride's garter and tablecloths.
No matter what the graphic design looks like, it is a representation of the special couple and a way for guests to remember the unique, personal touch they put on their wedding.
Photographs by David Wright Photography