Sweet Dreams Cookie Company
Sweet Dreams Cookie Company is nestled between the main square and the Harpeth River in a unique, older home. Since opening in February 2006, Sweet Dreams Cookie Company has already made a name for itself. They were nominated to be highlighted in the book, Treasures in Tennessee and Kentucky and have received rave reviews all over town. Founder and owner, Marnice Smith is fondly known as the "Cookie Lady," but her creations go beyond cookie jar favorites.
An avid baker since she was a little girl, Marnice has perfected her cookie but encourages customers to get creative too. With the signature "Build Your Own Cookie Experience" (BYOC), customers choose a base-cookie and their own combination of add-ins and let Sweet Dreams do the rest. Sweet Dreams also has super gourmet chocolate dipped cookies and iced cookies. A tin of custom-built cookies or a dozen of the gourmet favorites make excellent gifts for clients, family or friends—and can be shipped anywhere in the United States!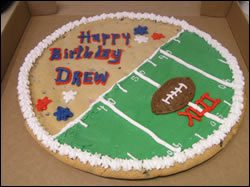 Now, don't be fooled by the name, Sweet Dreams Cookie Company is much more than delicious, gourmet cookies (and cookie cakes). Sweet Dreams also whips up custom cakes, chess cake squares, pies, cupcakes, brownies and butter rolls. Whether you are celebrating a birthday, anniversary, wedding or other special occasion- you are sure to find everything your sweet tooth craves, because all orders are tailored to the customer's needs.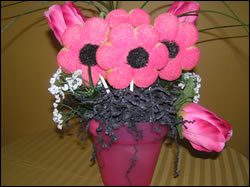 Among the cookies and specialized cakes are edible delicacies. One unique creation is "cooquets," which make beautiful, edible arrangements to give to someone special. Instead of sending your loved one flowers, surprise them with a cooquet—a gift they can eat! Sweet Dreams also customizes wedding party favors such as monogrammed, glazed and pearlized cookies. Cheesecakes are another popular option, and customers can choose for fruit-filled, turtle, truffle and chocolate. Beyond the cooquets, personalized cookies and cheesecakes are the scrumptious specialty cakes.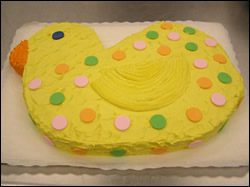 Custom cakes can be created from almost anything customers dream up! With the vision of the perfect wedding cake, a perfume bottle, flip flops and a beach ball, the replica of your favorite guitar. Inspiration for cake designs come from invitations, perfume bottles, cars or photographs, all of these dreams and others have come true at Sweet Dreams in the form of delicious cakes. The possibilities are endless but no matter what your cake looks like, it is sure to be a great hit! Cake flavors are unlimited and specialties include white vanilla, almond, yellow, coconut, chocolate, strawberry, red velvet, sweet velvet and German chocolate.
Sweet Dreams Cookie Company has also become the one-stop place to celebrate! A recently redone party room in the back is the perfect space for showers, birthday parties and other social events. Not only are the sweets provided but children's birthday parties are all-inclusive. Hosts don't have to worry about drinks, decorations or activities. Marnice can also prepare food or make arrangements with a caterer to have other (non-sweet) food brought on site. Located on Bridge Street, between 1st and 2nd Avenue, the location can't be beat and the private parking lot on the side of the building can accommodate party guests.

BYOC Birthday parties are stress-free for the parents and always a hit with the kids. Parties can be customized to include a cookie cake or regular cake, ice cream and drinks. For activities, kids get the full-BYOC experience by rolling unlimited add-ins into cookie dough. Kids also decorate their own apron with fabric markers to take home along with a chef's hat. At the end of the party, children take fresh-baked cookies home with them. To see more about all-inclusive Sweet Dreams Birthday parties, Click Here!
With Cookies, cooquets, cupcakes, cheesecake, brownies, personalized cakes and more, Sweet Dreams Cookie Company is the place to fulfill all of your sweet tooth desires! Stop by Sweet Dreams Tuesday – Saturday and see what the sugar buzz is all about!
Stop by for daily specials and yummy cookies at the store:
Sweet Dreams Cookie Company
111 Bridge Street
Historic Downtown Franklin, TN
615-599-5979
In-Store Hours (subject to change)
Tuesday – Thursday 10:00AM – 6:00PM
Friday 10:00AM – 7:00PM
Saturday 10:00AM – 5:00PM
Sunday – Monday CLOSED
Order Online, In our Store, or by Phone
615-599-5979 OR
1-866-I'LL BAKE (455-2253) Toll Free
Website
http://sweetdreamscookies.com/
Don't forget to call to reserve your Birthday party, shower or other special event and celebrate with sweet and treats in the new party room!