Pumpkin Carving & More
Franklin Is.com is excited to celebrate Halloween! It is a fun holiday to spend with family and children of all ages can participate in fun activities. Pumpkins are one of the signatures of Halloween and soon it will be time to carve them and create decorative jack-o-lanterns. Use this as a quick guide on how to carve your perfect pumpkin. Don't forget to save the seeds to roast for a yummy snack! Finally, check out some of the festive events around Williamson County, leading up to Halloween—Friday, October 31.
How to carve a Jack-o'-lantern
After your family has selected the perfect pumpkin, it is time to carve it. Carved pumpkins stay fresh about two weeks, so wait and carve it close to Halloween. This is definitely an outdoor activity, and spread out newspaper to clean up the mess. While the adults are doing the actual carving, kids can design their own jack lanterns by drawing designs on miniature pumpkins with markers.
First, Use a permanent marker to draw a thin circle, about 2-3 inches from the steam. Then use a serrated knife to cut around the circle. Make sure to make a notch on one side in order to fit the lid back on later. Firmly pull the lid off and cut away the loose strings and seeds so the bottom of the lid is smooth.
Next, encourage the kids to help dig out the stringing glop and seeds inside the pumpkin. If you want a fun snack for later, have the kids help separate the seeds and lay them out on a clean piece of newspaper. Once you get out all the glop possible with your hand, scrape the inside with a tool such as an ice cream scoop.
Now it is time to design. If you are using a template, attach it to the pumpkin and mark the design. Otherwise, use a permanent marker to draw your own design. Cut along the lines and discard extra pumpkin cutouts.
How to roast pumpkin seeds
Take the cleaned off pumpkin inside to cook. If your family has the patience, let seeds dry out on a baking sheet overnight. Drying them out will allow the seeds to roast better.
When you are ready to cook the seeds, preheat the over to 300º F. Melt butter and mix in salt. Toss the pumpkin seeds with the mixture to cover. Spray a baking sheet with cooking spray and lay pumpkin seeds out in a single layer. Bake until the seeds are golden brown, stirring them about every 10 minutes for total cook time of 30-45 minutes.
Some other options to add flavor are to season them with seasoning salt, Cajun seasoning or garlic salt instead of plain salt. A sweet way to prepare them is to mix them with melted butter, cinnamon and a pinch of salt. When you take the cinnamon seeds out of the oven, sprinkle them with sugar.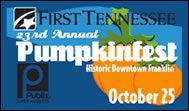 Pumpkin Events
Weekends Sept. 27-Oct. 26: Gentry Farm, Sat. 9am-5pm and Sun. 1pm-5pm. Activity area including hay rides, cornfield maze, nature trail, barn, tire swings and barnyard animals. Activity center is $6 per person and pumpkins for sale.
Saturday Oct. 18: Pumpkin Palooza at Whole Foods (1735 Galleria Blvd, Franklin) from 11am-3pm.The event is free and there will be kids activities, cooking demonstrations, samples and prizes.
Saturday Oct. 25: Historic Downtown Franklin's 22nd annual Pumpkinfest in downtown from Second to Fifth Avenues with all things fall related: pumpkins, Halloween costume contests, activities for children, two stages of entertainment, Franklin Tomorrow's chili cookoff, hayrides and fall arts/crafts from 10 a.m. to 6 p.m. along Main Street.
Saturday Oct. 25: Historic Carnton Plantation's Haunted Halloween; From 6:00-8:00 p.m. enjoy ghost tours of the historic house and a magic show by Professor Richard Barclay. Tickets for adults are $15, $10 for ages 6-12 and free for under 6 years. Food will be available for purchase.
Friday Oct. 31: Halloween! Have fun and be safe as you enjoy parties and trick-or-treating around Williamson County.