Stonebridge Art Gallery Shares Holiday Buying Guide
The Franklin gallery and framing studio's recommendations can accommodate
any person on your list
FRANKLIN, Tenn., (December 22, 2022) – Stonebridge Art Gallery, longtime tenant at The Factory at Franklin, shared a guide for buying art for even the most challenging person on your list this holiday season.
"For the person on your shopping list that 'has it all,' art can be the perfect gift that shows just how well you know and understand them," said gallery owner Don Metzger. "It can be a daunting task to pick out art for those you love, but our gallery has 24 years of experience in matching art to the recipient. Stonebridge is proud to assist those who walk through our doors and want to find that perfect piece."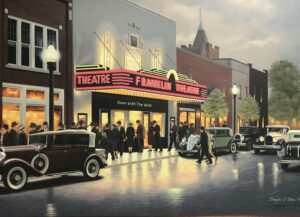 For the Franklin lover: For the Franklin lover, nothing depicts the essence of Downtown Franklin quite like the Franklin Theatre. This piece, Showtime by Doug C. Hess, takes us back to the time when going to a movie was an event, and Gone with the Wind was a 1940s classic.
For the minimalist: For the person who loves movement and emotion, but isn't drawn to bright colors, a conceptual piece can add interest to a room without being overwhelming. This piece, Contrast in Motion III by DJ Kim does just that.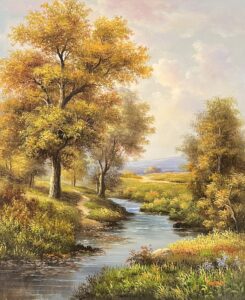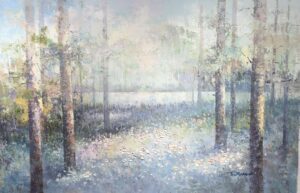 For the nature lover: If you know someone who absolutely loves detailed expressions of the Great Outdoors, there is nothing better than an artwork that takes you to someplace that you feel you have been to or someplace you would love to go. Serenity V by Humphrey and Secluded Lake by J. Morgan are just a few of our beautiful pieces highlighting the beauty of the outdoors.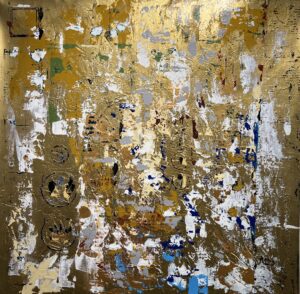 For the aspiring astronomist: Looking for a gift that is out of this world? Try a conceptual piece with a tie the stars like Textured Conceptual in Gold by Hans Barrera. The balance of warm tones and cool tones is certain to create interest, and the black grids are star plates. They are over 100 years old and unique. They represent the age of each star and the light distance at time of measurement.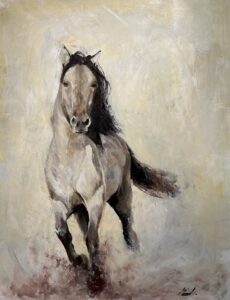 For the animal lover: If a horse represents beauty, freedom, and strength to someone you know, Wild Horse by Pablo Ulloa could be the perfect gift. Portrayed in soft creams with darker accents, this artwork exudes Strength, Fluidity, and Majesty.
"The true key when giving art is to consider the activities they love, the style of their home and other various interests. Franklin, nature, astronomy and minimalist pieces are just the beginning of what we have to offer." expanded Metzger.
Stonebridge Art Gallery opened in 1998 as one of The Factory at Franklin's founding tenants. Owned by Don and Colleen Matzger, the gallery and framing studio is proud to meet the art needs for Franklin and the surrounding community by offering unique and unpretentious works in a variety of sizes, styles and pricepoints.
###