Free Tours of the St Jude Dream Home
This is the final weekend for free public tours of the beautiful St. Jude Dream Home built by Southern Land Company in Westhaven. Valued at approximately $650,000, this four bedroom three and a half bath home could be yours for only $100. With more than 11,000 tickets sold, time is running out to get your ticket. The campaign sold out a week early last year so there's no better time than the present to purchase your ticket. All winners of the St. Jude Dream Home Giveaway will be drawn live on FOX 17 on Sunday, June 22nd at 6pm.
The St. Jude Dream Home will be open this Saturday from 9am – 5pm and Sunday from noon – 5pm. Everyone visiting the home can not only reserve their $100 ticket, but can also register FREE to win a $5,000 shopping spree at American Signature Furniture.
In addition, organizers have come up with another great prize that will be given to one lucky person who tours the home over Father's Day weekend.
A gas grill, valued at almost $1,000, will be given away to one lucky person who comes to tour the St. Jude Dream Home over Father's Day weekend.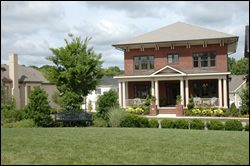 Campaign Specifics
The St. Jude Dream Home campaign started in Middle Tennessee in 2004. In just 4 years, Southern Land Company has quickly become one of the leading St. Jude Dream Home campaigns in the country, raising more than $3 Million for the hospital. In 2007, Southern Land Company Homebuilding was named St. Jude Builder of the Year. After reaching this year's goal of $1.6 Million, Middle Tennessee will be host to the largest St. Jude Dream Home campaign in history.
About Westhaven
Located on 1,500 acres off of Highway 96 West, Westhaven is a master-planned community developed by Southern Land Company. At completion, it will include over 2,600 homes with a town center and numerous recreational activities and amenities.
Constructed by Southern Land Company Homebuilding, the 2007 home is valued at $650,000, and marks the company's fourth St. Jude Dream Home to be raffled in the Nashville area. To learn more about Westhaven, visit www.westhaventn.com.
About Southern Land Company
Southern Land Company is based in Franklin, Tennessee, 15 miles south of downtown Nashville. It is a full service development firm with more than 335 employees between the Tennessee and Texas offices. The company employs architects, landscape architects, homebuilders, town planners, engineers, heavy construction professionals, marketing and sales teams, horticulturalists, and a broad scope of community development professionals. The private firm was founded 21 years ago by the current CEO, Timothy W. Downey. To learn more about Southern Land Company, visit www.southernland.com.
About St. Jude
St. Jude Children's Research Hospital is internationally recognized for its pioneering work in finding cures and saving children with cancer and other catastrophic diseases. Founded by late entertainer Danny Thomas and based in Memphis, Tenn. St. Jude freely shares its discoveries with scientific and medical communities around the world. No family ever pays for treatments not covered by insurance, and families without insurance are never asked to pay. St. Jude is financially supported by ALSAC, its fund-raising organization. For more information, please visit www.stjude.org.