Rockin' with FLAIR
Recently, we had an e-chat with up-and-coming local band Flair. Andrea Davis, Flair's lead singer, took some time to break it all down and give FI the skinny on the music, the band, upcming shows and, of course, a few random q's we had for her!
So sit back and check out one of this region's more talented young bands…
FI: What kind of music do you play?
Davis: Our style of original music is a mix between pop and alternative rock. When it comes to playing covers, we do a little of everything, except country.
FI: How long has the band been together?
Davis: Jason Miller, the lead guitar player, and I have been together for almost 10 years. We've played with many musicians and under three different names. Our current drummer, Kurt Ruleman, has been playing with us since 2001; and current bassist, David Larsen, joined us in the summer of 2005.
FI:  What is your favorite ice cream flavor?
Davis: Mint Chocolate Chip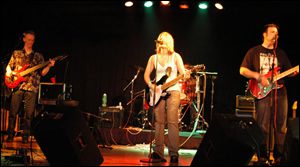 FI: What are your next upcoming shows?
Davis: Soon we will be in Gadsden, Ala., at Chestnut Station  and here in Franklin at Dolan's. We have a few more shows in Alabama this month and one in Florida. Our biggest show of this year will be in Franklin on New Year's Eve at The Factory. It's a black-tie event being held to raise funds for The Arc of Williamson County, a non-profit organization for people in Williamson County with disabilities. More information about the event and the organization can be found at www.thearcofwilliamsoncounty.org. Check it out. It's going to be a lot of fun!
FI: When you are "on the road" what is your favorite fast-food stop?
Davis: We try not to eat a lot of fast food on the road. Most of the time food is provided for us at the shows, but our favorite place to eat is a Greek restaurant in Tuscaloosa, Ala., called "Hooligan's." They have great Gyro's and mint tea!
FI: What cover song do you like performing the most?
Davis: "Barracuda" by Heart. It rocks.
FI: How do you take your coffee?
Davis: No coffee. I prefer Chai Tea.
FI: What are your top three music inspirations and why?
Davis: Sarah McLachlan because to me lyrically and vocally, she's the best. The band "Garbage" is also an inspiration because of their style and dynamics. Listening to their music makes me want to stay in the rock genre. My third inspiration has to be the band "Weezer" just because I'm a huge fan. I'm devastated that they broke up.
FI: What stage do you like to perform on best?
Davis: I don't really have a favorite. I just like big venues and big crowds over more intimate settings.
FI: What is your favorite performance memory?
Davis: I performed at Morgan Freeman's club, "Ground Zero" in my hometown of Clarksdale, Miss., once.  Mr.
Freeman was there.  When I started to sing, he came and stood at the edge of the stage and didn't take his eyes off of me.  That felt pretty good.  He's a really nice guy.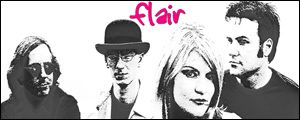 For more information on Flair, check them out at www.flairmusic.com, and their cd can be purchased through http://www.cdbaby.com, Apple i-tunes, Napster and Rhapsody.
FROM RIB MAGAZINE:
"Yes, we're from Nashville! No, we're not country!" Flair states on their Myspace Web page.
This becomes immediately evident on the tough Benatar shards of "Hurting Me" that open Flair's half-hour debut CD. Sandwiched between the first side's hard-rocking bookends are a couple of jangle-pop gems, beginning with the scrumptious Sundays-isms of the album's "Stand"-out track, before becoming a mostly acoustic affair on the flip side.
Vocalist Andrea Davis' Delta blues-soaked roots first become evident on the record's only live cut, "Heaven Sent," before her pristine pipes really come to the fore and get to soar on the last two numbers. Like their name implies, this band has the talent to carry them forward. Catch them now at a bar, ballpark, fraternity party or summer festival before they hit the big time!
-David Thornton, Rib Magazine