Pig is Rescued!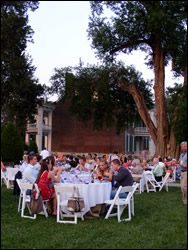 Friday, May 30, the infamous pig was returned to her rightful owners at the Food & Spirits Festival Kick -Off Dinner held on the grounds of the Historic Carnton Plantation.
Guests were enjoying live jazz music and the best Southern cook'in, all of a sudden the Franklin Fire Department blared up to the party. Dressed in their fire equipment, firemen spilled off the truck carrying the lost pig. They arrived in the nick of time! The pigs were then auctioned off that weekend.
Below are pictures from the event. To learn more about the Franklin Food & Spirits Festival, visit www.franklinfoodandspirits.com or www.historicfranklin.com.