LOTZ HOUSE EXPANDS – OPENING THE LOTZ HOUSE ANTIQUES & MUSEUM STORE MARCH 3
Featuring a Lifelong Personal Antique Collection from the Estate of the Late Sue Armstrong Thompson
FRANKLIN, Tenn. — Lotz House is set to expand by opening the Lotz House Antiques & Museum Store featuring the antiques and collectibles from the estate of the late Sue Armstrong Thompson, also known as the "One Woman Road Show." The retail store will open Friday, March 3 is located next door to the Lotz House on the lower level of 1117 Columbia Avenue, home to Williamson Herald and Southern Exposure.
In making the announcement, Lotz House owner J.T. Thompson and son to Sue Thompson said, "We're excited to share Sue's antique collection with others in Franklin who appreciate decorative arts as well as fun finds. I've always called Sue an 'incurable collector' because I witnessed repeatedly her love for the hunt since I was barely walking in Texas as a child. I was recently surprised to learn she had many hidden storage units throughout Williamson and Marshall Counties housing her abundant collection."
The retail store will feature American Victorian antiques from the 1820's to 1950's as well as interesting one-of-a-kind items she discovered in her travels and while exploring the world. Wendell Garrett, the former editor at large at The Magazine Antiques, said about her collection. "It's by far the finest private collection of American Victorian Furniture in the Southeast."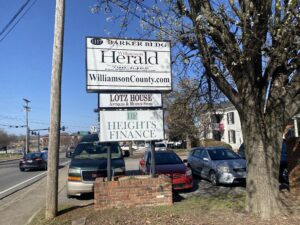 Thompson added, "We've uncovered many furnishings and decorative art pieces, yet still have more to discover in various storage containers. It's like Christmas morning every time I open a box or uncover a piece of furniture that has been sealed or covered for decades in many cases. We'll continue to add to the store's inventory as we begin to sell items and make room for more. We will constantly be adding additional inventory which will be make it a fun experience for shoppers of all ages."
In 1976, Sue Armstrong Thompson moved from her native state in Texas into Mooreland Plantation in Brentwood, Tenn. While there, she was contacted by the Carter House Association to host hospitality dinner and tea parties to encourage docents for the historic site. In 1979, she and her family moved to Longview Mansion on Caldwell Lane in Nashville, a beautiful backdrop for her antique collection. For more than 50 years Thompson appraised antiques throughout the south and was often accompanied by her son J.T. Thompson who owns and manages the Lotz House Antiques & Museum Store. Lotz House guests loved visiting with Sue when she volunteered at the museum because she had many great stories to share.
Antique appraisals are also offered. For more information call 615-790-7190 or visit www.LotzHouse.com.
About the Lotz House:
The Lotz House has been on the National Historic Register since 1976 and is located in historic Franklin, Tennessee at 1111 Columbia Avenue. It's at ground zero of the Battle of Franklin, which was held on November 30, 1864. The house is open Monday – Thursday, 10 a.m. – 4 p.m. and Sunday 11 a.m. – 4 p.m.