Legacy Ball is a Huge Success
Saturday night, Feb. 24, was a huge success as the Williamson County Child Advocacy Center and First Tennessee Bank united together to throw the second annual Legacy Ball at the Embassy Suites of Cool Springs. With approximately 400 guests bidding on silent auction items, enjoying fine dining, a live auction, listening to speakers and dancing to The Scat Band, the Legacy Ball raised more than $40,000.
Listening to a parent share her story of what her family went through when their child had been sexually molested and how the WCCAC supported that child and family made an impact on many. WCCAC is a valuable organization to our community as they serve many families.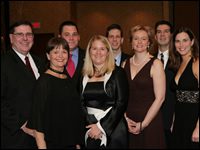 The Legacy Ball was unlike any fundraiser event. On top of the delicious food, a hopping band and an exciting silent auction, every guest received a homemade bracelet from Tara Galvin. Galvin is a fifth grader, and she created button bracelets to support the WCCAC. She found out that some children do not have an easy childhood like hers and wanted to help the WCCAC. Button bracelets were placed at each guest's table setting.
When children come into the WCCAC, they pick out a button and place it in a jar. Then they see that they are not alone and other children before them have gone through a similar experience. These bracelets serve as reminders of the children and youth in Williamson County who receive help because of the WCCAC.
Stacy Sullivan-Karrels, Legacy Ball Chairman commented on the exiting evening: "This was a fun evening filled with a diverse and giving crowd, heart-warming entertainment, fabulous silent auction, and topped off with a favor bag filled with an assortment of goodies … All for the sake of The Williamson County Child Advocacy Center!"
To find out more about becoming involved with the WCCAC go to their Web site or call 615.778.0757.
The Williamson County Child Advocacy Center provides a loving environment for abused children. Their mission is the following: "To combat child abuse by coordinating services to child abuse victims and their families in crisis and providing community education focused on prevention and early intervention."