Bridesmaids: Make her life easy!
By Sarah Carlos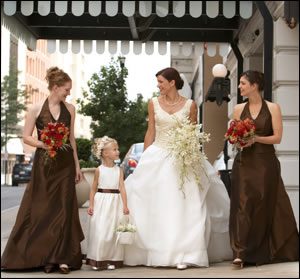 As exciting as it sounds to be asked to be a bridesmaid, it isn't easy. The bride can be cranky, emotional, and just plain picky about things! Here are five small ways you can make the whole event much easier on the bride. After all, you wouldn't be there in the first place unless you had a strong bond. And you know your girl would do the same for you.
Listen. This may sound easy, but there will be times when you will be sick and tired of discussing the invitation style, the dress, flowers, centerpieces, etc. Just remember that when your day comes, you too will want someone to care about the small stuff as much as you do. Be a good maid, and help her work through every last detail.
Know When Hold Your Peace. Many of you will probably be faced with the most difficult task of accepting your bridesmaid dress for what it is. It may not be your style, it could cost a fortune, and the darn thing is uncomfortable to boot! While these are all valid feelings, the best thing to do is keep your mouth shut. It's not your style and is itchy? No worries – you won't have to wear it ever again. Costs too much? Discuss this matter privately with the bride and hopefully you can work something out. Maybe she can pitch in for half of the costs. The thing to remember here is that you are there to support HER. Be the best sport you can.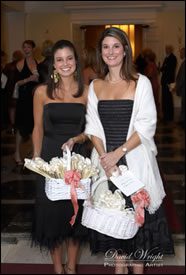 Be a Team Player. Coming from someone who has been a bridesmaid, and endured the drama of bridesmaids fighting like cats and dogs at her own wedding, I know what some of you may be in for. You don't know some of these girls. Some of them may be jealous of your relationship with the bride. There may be hurt feelings because some bridesmaids, maybe even you, think you ought to have been chosen to be the maid of honor. If there is drama, ignore it. You are there for support, and you were obviously chosen because your friend, the bride, wants you to be there on the most important day of her life. Pitch in with the other maids, help as much as possible, and don't sweat the small stuff.
Lend a Helping Hand. As the date approaches, you are guaranteed to have a nervous bride on your hands, so do anything you can to keep her calm and relaxed. Offer to help make the favors for the reception, put together gift bags for guests, run last minute errands around town. Do anything and everything that will alleviate some of her worries, so that she can enjoy herself and have some down time before the big day.
Keep Her Glass Full. Planning a wedding and going through the entire process is exhausting and overwhelming, so be there for her. Don't use the reception as an opportunity to party like a rock star and disappear for the rest of the evening; fill up her glass. Brides are barely able to move once they get to the reception because of all of the guests they have to meet and greet. Give her the opportunity to enjoy herself by attending to her. Once she is taken care of, go ahead and fill up your glass.
Congratulations! You are a wonderful bridesmaid. She made it with your help, and when your time comes, she will absolutely do the same thing for you.
Photographs by David Wright Photography