HeART to Heart fund-raiser
The Patricia Hart Society, a women's group of the United Way of Williamson County, hosts their second annual HeART to Heart fund-raiser February 9, at 11:30a.m. in Jamison Hall, at The Factory. The annual fundraiser is a great way to connect with other women and to learn more about taking a leadership role in positively impacting the community. The group is named after Patricia Hart, a local resident and outstanding volunteer, and was created to encourage women to help in the work of the United Way.
The annual event provides a perfect opportunity for a ladies day out. There will be a silent auction, plated luncheon and fashion show provided by Dillard's, with Laura Faber of WZTV-TV, Fox Channel 17 serving again as the Mistress of Ceremonies. Last year, the silent auction had over 100 themed baskets ranging from orchids to jewelry.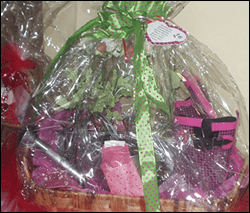 Cheryl Stewart, Marketing and Communications Manager, commented on the unique and creatively designed baskets saying "there's something for everyone!" Stewart recalls from last year a "doggie in a window" basket filled with pet supplies, a "brick house" basket including everything to help get fit for the new year, and handmade jewelry presented in a treasure chest. New this year, Dillard's is presenting a spring fashion show with attire ranging from casual to cocktail for women of all ages!
This event sold out last year so get your tickets early! Tickets are $45 a person and can be purchased through the United Way of Williamson County at 615.771.2312. The Co-Chairs for this wonderful event are Louise Bairnsfather and Suzanne Loring. Join this group of amazing women for a fun luncheon and to learn more about ways to help make a difference in Williamson County. We always like to say "extraordinary things happen when women come together" and this fundraiser is a perfect example of that. "This group bringing people together shows anything can happen." All proceeds benefit the United Way's community impact fund which is distributed to all partner agencies.