10 Favors With Flair
By Sarah Carlos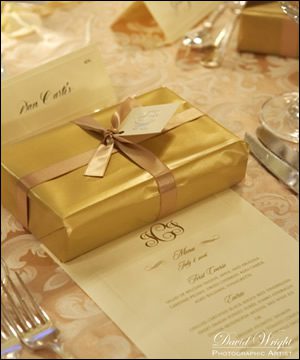 Making your own favors adds a little spice to the old tradition of thanking your guests for attending, and can certainly save you a buck or two! Today, couples spend from 2-3 percent of their overall wedding budget on wedding favors, which can certainly add up depending on the number of guests at your wedding. Here are 10 unique favor ideas that will ensure your guests will appreciate your favors – and your taste.

1. Cookies – Grab an easy recipe, flower and heart-shaped cookie cutters, tubes of icing, and get to work! Place 3-4 cookies in clear or colored cellophane bags and tie a colored ribbon around the top. A perfect activity for you and your bridesmaids, and you can always freeze ahead of time.

2. Canvas Bags Filled With Flowers – Small canvas bags only run $2.48 for a package of 3 at most crafts places. Fill with freshly cut flowers and place on your guests' tables. They will serve as unique centerpieces and thoughtful favors.

3. Watering Cans – Perfect for an outdoor garden wedding, these tiny watering cans are about $1.49 a piece and make very festive favors. Fill with potpourri or your favorite chocolates.

4. Picture Frames – Picture frames are warm, inviting – something your guests can take home and place around their homes and offices in remembrance of your special day. You may wish to place a card in the frame with your initials, the date of the wedding, or a candid photo of the two of you.

5. Glass Bottles – Print your names and the date of the wedding on the outside of small corked bottles as a keepsake and you can fill with colored sand to complement your wedding colors. If yours is a destination wedding, fill with sand and small shells. Very cute – your guest will love it!

6. Packets of Seeds – Buy packets of seeds for your guests to plant and print the date of your wedding on the outside. It's an inexpensive way to add color to their gardens and they'll be reminded of your commitment every time they look at them.

7. Individual Chocolates – No one will complain about what they can eat! Purchase individual chocolate squares, wrap them in colored tissue, and paste a brief typed-up message to your quests, thanking them for coming.

8. Scented Candles – Place a name tag to the front of each candle at every seat, and you are in business! Purchase a scent that matches the kinds of flowers used in the wedding and make sure the color corresponds to the colors in your wedding.

9. Cookie Cutters – If your wedding is around the holidays, these are the perfect favors for your guests. Based on your theme, buy several large packages of daisy, shell, or leaf-shaped cookie cutters; tie a colored ribbon around the top; and leave with a personal note for your guests to enjoy.

10. Almond-Filled Organza Bags – Place a handful of almonds inside small, colorful organza bags (you can purchase these at your local crafts store). A pound of Jordan almonds (90-100 in a pound) costs only $3.99 at economycandy.com. They even come in an assortment of colors – white, pink, purple, peach, yellow, green, blue, so you can match your color theme.
Photographs by David Wright Photography