Halloween Hot Spots!
HAYRIDES AND HAUNTED TRAILS OF HORROR A HIT FOR HALLOWEEN!
The Williamson County Parks and Recreation's infamous "Haunted Trails of Horror" is back and better than ever!
The haunting starts at 6:30 p.m., for those who dare to join us, at the Franklin Recreation Complex on Wednesday, Oct. 24 and continues on Thursday, Oct. 25, with an untimely ending each night at 9 p.m.  Eerie sounds from the Halloween DJ entice the brave souls who board the haunted hayrides to travel through the trails and along the Harpeth River, encountering kooky characters, (brought to life by the Franklin High School Drama Group) a handful of spooks and of course, some scary moments.
Bring your Scout Troops, ball teams—the whole gang!  Don't miss this exciting community event!
Cost is $4 per person with no charge for children under the age of 3.  Refreshments are available on site for an additional fee.  For more information, call the Franklin Recreation Complex at 790-5719, ext. 10.  The Complex is located at 1120 Hillsboro Road in Franklin.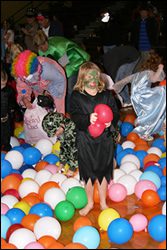 9th ANNUAL HALLOWEEN BLOWOUT AT FAIRVEW REC. COMPLEX
Hop on your broomstick and join Williamson County Parks and Recreation on Saturday, October 27th at the Fairview Recreation Complex for the 9th Annual Halloween Blowout!  Young spirits ages 2-12 can join in the haunting fun from 6:00 p.m. to 9:00 p.m. with spooktacular games, contests and cauldrons of candy.  Don't forget to appear in your most unique costume for the Halloween costume competition and practice your blood-curdling screams for the "scariest scream" contest.  Fairview's own Fortune Teller tells tall tales and dangerous predictions during the event!  Enjoy refreshments including witches brew punch and "deadly" Halloween cookies.  Stay until the event's end to witness 2,000 balloons filled with goodies dropped from the ceiling!  Enjoy a fantastic event for you and your little goblin!
Cost is $4.00 per person.  Adult supervision is required for all participants.  The Fairview Recreation Complex is located at 2714 Fairview Boulevard in Fairview.  For more information, contact the complex at 799-9331.  No registration required.
Sponsors for the event include: The Print Authority, HealthSaver Pharmacy, Fairview McDonald's and Sonic Drive-In.