Green Weddings
By Candace Hutchins
Green Weddings! Green buzz is all around. Thanks in large part to Al Gore and a growing public awareness of global warming, green is chic. Everybody who's anybody knows that green is definitely "in."
Whether we're recycling at home, turning off lights in empty rooms, buying organic at the grocery store, or using public transportation, we're all aware of the importance of a green-ish lifestyle.
The latest green trend? Without a doubt, it's weddings.
Couples are increasingly environmentally conscious about their wedding plans. It's a logical step to incorporate green practices into your wedding day. For many, it is refreshing to know that having a "green" wedding does not translate to a barefoot affair with a granola wedding cake. There many options for couples that want to go green, whether they want touches of green or want to follow eco-friendly guidelines in all possible aspects of their wedding day.
Below are just a few ideas we dug up to help you incorporate green practices into your wedding day. Go green or go home!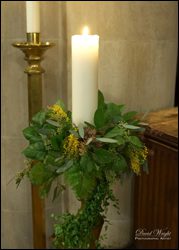 Venues
The most economical and eco-friendly wedding is a small marriage ceremony in city hall, foregoing a large ceremony and celebrations with friends and family. Although a simple union is an intimate and practical way for many couples to get married, most prefer to include guests in a more traditional ceremony and reception party. Luckily, there are alternative venues that help make weddings and receptions more eco-friendly.
To save money and a lot of energy that would otherwise be spent on lighting and heating or cooling, consider having a daytime wedding ceremony or reception at an outdoor venue. One way to save fuel is to have the wedding and the reception at the same venue, or at two locations that guests can walk between. For example, if you choose to get married in a church, try to find a nearby park that guests can stroll to after the ceremony. If the city allows it, you can direct the guests where to go for the reception by arranging flower pots or luminaries along the path.
Another recent trend is to have your wedding ceremonies and receptions in unique outdoor venues such as botanical gardens, parks, farms, city zoos, and nature preserves. Getting married at an outdoor venue is often a good eco-friendly option not only because it saves energy, but it also cuts down on flowers and other decorations. Couples that have a special place may want to consider using that place in their wedding ceremony or reception. Many unconventional venues are able to accommodate weddings and parties, so it's worth trying to contact different outdoor venues about your plans.
To decorate an outdoor venue, concentrate primarily on what is already there. Natural settings alone can often provide ample scenery for a wedding or reception. Accessories such as bouquets can be coordinated with the seasonal vegetation that will be there. For other decorations, create a shabby chic look with weathered-looking decorations that you can find at antique stores or in your parent's attic. Look for props like candlesticks, urns, planters and arbors to blend with the natural décor. Spray paint everything to match or leave them au natural.
Invitations
The invitation initiates your wedding and sets the tone. More and more couples are using the Internet as a means to communicate with their guests about wedding plans. Completely replacing save-the-date cards, invitations and RSVP cards with e-mail are the most eco-friendly and economical ways to get in touch with guests. There are numerous options available online for creating your own personalized wedding Web site. Electronically sending your guests information about the wedding and requesting electronic responses saves time, money and paper.
Invitations are a classic wedding emblem, and many couples still prefer to invite guests by mailing paper invitations. Besides, Grandma doesn't have a computer, and she will have a fit if she isn't properly invited. When mailing formal wedding invitations, there are other ways you can green it up, especially for guests that you know are technologically savvy. Skipping save-the-date cards completely and letting guests know through a wedding Web site, e-mail or telephone call will save a lot of paper. Rather than including extra enclosures with directions, put directions on your Web site and verbally let others know how to get there.
Ensure that any announcement or invitation you do mail is eco-friendly by having them printed on recyclable paper or recycled paper. One nifty idea is to send invitations that are made of recycled paper, embedded with wildflower seeds. Guests can tear up the invitation after the wedding and plant the seeds.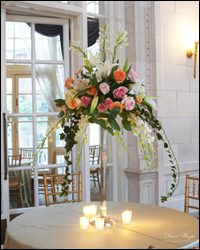 Clothes and rings
"Reuse" is a standard green principle. In terms of weddings, many grooms and groomsmen have been practicing reuse for years, when they rent and reuse tuxedos. For non-renters, it is rare for grooms and groomsmen to buy a tuxedo or suit for a wedding, wear it for a day, and never use it again. And it is rare for bridesmaids and especially brides to buy a dress for a wedding, wear it for the day and wear it again. While more brides are selecting wearable and reusable dresses for their bridesmaids, brides are generally not keen to the idea of renting or reusing their wedding gown.
Wedding gowns are not cyclic and are typically worn, taken off, cleaned, waxed, boxed and never used again. Many women reason that they want to keep their gown so they can pass it down. For women who want to pass their gown on to be reused, they can donate their gown to a nonprofit organization that specializes in bridal attire or sell their gown to other women or to consignment stores. Of course, you could always pick a wedding gown that could be worn again … but that might be weird.
Brides can still express their unique style when wearing used, borrowed or recreated wedding gowns. Brides choose to alter vintage wedding gowns to fit their shape and style or to leave them in the original form. Another idea is to be a patron to your heritage or special (or well-dressed) family members by wearing or remaking the dresses of your grandmother, mother, aunt, sister or cousin. Many vintage styles are becoming popular again, and wedding gowns look completely different in modern contexts.
Couples who want to dress eco-friendly should wear garments made from hemp, silk or bamboo. Organic cotton is another natural fiber that is available in beautifully woven patterns and creates clothing of luscious textures. If clothing needs to be cleaned after the wedding, be sure to take it to an environmentally friendly dry cleaner in order to avoid the use of unsafe chemicals.
Rings, whose origins did not involve harming the environment, can be stunningly beautiful jewelry. Aim to use recycled gold or titanium for the wedding bands. Recycled natural diamonds are a sensible option. In addition, conflict-free diamonds are also a sound choice.

Flowers
Flowers are an important aspect of weddings that add beauty and warmth to the setting. Large quantities of flowers can also be a huge expense and end up being a huge waste of foliage. A simple, eco-friendly solution is to stick with flowers that are locally grown. Preferably, the flowers were grown organically, meaning without the use of chemical pesticides. Flowers that are native to the area near the wedding location are not only easier to obtain but also save fuel that would be wasted by transporting and preserving them from elsewhere.
No matter what type of flowers you decide to use and how many you have, a smart green move is to use the flowers more than once. For example, the flowers used during the wedding ceremony can be re-used at the reception. Bridesmaid bouquets can be used as centerpieces on the tables or petals can be used for the couples' send-off.
Using fewer flowers can create a unique setting for the wedding. It is easy to cut back on flowers for ceremonies or receptions in outdoor venues. Also, using alternative decorations other than flowers can be just as beautiful. Flowers can be replaced with bowls of seasonal, organic fruit or vegetables. Alternatives such as tree branches, shells or nuts can also tie into the theme of the wedding and save on extra flowers. Soy candles as table centerpieces can create an intimate atmosphere. Other centerpieces that have framed photographs can add a personal touch and eulogize special loved ones. Putting potted plants out can double as favors for guests to take home and plant.
One special idea that is especially earth-friendly is to plant a tree during the reception in recognition of the marriage. This would work especially well for couples planning to celebrate their marriage in a park or outdoor garden. You can initiate the tree planting tradition and return to the spot at anniversaries, births of children or other special occasions to plant more trees.
Another idea is to plant your own flowers and plants when you get engaged, depending on the season and the climate. Then, as a couple you can have a shared hobby in the garden. It can be a relaxing and stress-free hobby that is still related to the wedding preparations. Make sure to have a back up plan in case plants do not come in on time, but set a goal to use all or a certain percent of the flowers and plants in the wedding. The personal touch will make you feel accomplished as a team once your wedding day arrives.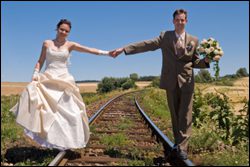 Reception Food
Serving organic food and beverages at your wedding reception is a more obvious way for a wedding reception to be eco-friendly. It is also one of the few green ideas that will likely cost you more green. Serving local and sustainable food at your wedding will be appreciated because locally grown produce will be of higher quality and be fresher. Ideally, try to have a vegetarian menu or a menu that focuses on vegetable dishes. Try to avoid serving chicken or beef, and opt for sustainable fish such as salmon instead. Sustainable fish are fish whose population can support their catch in a safe and legal manner.
If you serve smaller tapa-style dishes, guests can sample the food they want to and smaller portion sizes will mean less food is wasted. A lighter fare will also mesh better with the surroundings if the reception is held in a bright outdoor venue. If available, organic wine and locally brewed beer, are eco-friendly solutions that will impress guests from out of town. After the reception, encourage the wedding attendants to take leftovers home with them and donate any other leftovers to a local food bank. When possible, avoid waste by serving food on dishes that can be thrown away in the compost bin. Plates made from sugarcane and utensils made from potato scratch are sensible options.
Favors
In lieu of favors for guests, couples may want to make donations to green charities in their guests' names. When you do want to send guests home with a small favor, try to come up with a practical and usable trinket. One idea is seeds planted in recycled cans, which guests can plant at home and it will remind them of your special day. Edible treats are always a favor that guests are likely to use. Some eco-friendly favors could be organic chocolate bars, organic cookies or small jars of honey. If you don't reuse the weddings' flower petals as a send-off, choose organic confetti.
Honeymoons
Honeymoons can be green and unique, if you think outside the box. Some couples choose to skip the honeymoon altogether and donate money to their favorite charities. Staying close to home rather than traveling far away will cut down on gas and allow you to discover interesting sites that will be convenient to return to for future special occasions. One idea that does not skimp on the lure of exotic travel is to donate your time by volunteering somewhere on the honeymoon. Blend a combination of couple time, volunteer time and relaxation time to share your love with others. Volunteering will allow you to meet and help some great people and create memories that will last forever.
Eco-friendly resorts are a good option for green honeymooners. Resorts that are eco-friendly grow vegetation organically and support local growers in their community. You will be comforted by the fact that the resort you are staying in has a minimal impact on the environment and supports the local economy. The resorts may aim to use solar energy, have a renewable water source, and ensure laundry techniques cut down on wasted resources. Research eco-friendly resorts in destinations that you are interested in honeymooning in order to see if they are following the green principles that you want it to.
Conclusion




No matter how much you are willing commit to a green wedding, whether you incorporate green practices into one aspect of your wedding or a dozen, it is about being aware. By being conscious of easy ways to make your wedding green, it is easier to conserve resources without forsaking the wedding of your dreams.