GOO GOO CLUSTER ANNOUNCES COLLABORATION WITH ELLISTON PLACE SODA SHOP
Two of Nashville's longstanding brands come together for The Elliston Place Soda Shop Premium Goo Goo
NASHVILLE, Tenn. – Goo Goo Cluster, the iconic Southern heritage candy brand which has produced America's first combination candy bar for more than 110 years, has partnered with Elliston Place Soda Shop, another longstanding Nashville establishment, to create the Elliston Place Soda Shop Premium Goo Goo. The latest Goo Goo flavor, launching April 3, is inspired by the popular Elliston Place Chocolate Cherry Malt, creating a delicious blend of the two local icons.
"We are thrilled to partner with the Elliston Place team to create an authentic Nashville treat," says Mike Colón, executive pastry chef at Goo Goo Cluster. "Elliston Place has been close to the hearts of many Nashvillians for generations, similar to Goo Goo Cluster, and we're excited to offer such a unique Premium flavor in stores and online this spring."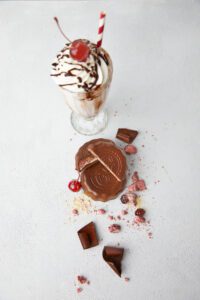 Elliston Place Soda Shop has been serving Nashville tourists and locals for more than 80 years with classic meat-and-three plates and soda shop specials in the heart of Music City. Together with Goo Goo Cluster, Elliston created the Elliston Place Soda Shop Premium Goo Goo full of whipped chocolate ganache, cherry Rocher crunch and malted milk nougat wrapped in milk chocolate.
"Just as it's important to save icons like Elliston Place Soda Shop, it's the Nashville way to support other legacy companies that are so much a part of Nashville's culture. That's why we are so excited to partner with Goo Goo on this custom creation," says Jim Myers, Minister of Culture for the Soda Shop. "In fact, we discovered that we've been business friends for more than 100 years. We share the same old photograph that reveals an advertisement for Belle Camp fine chocolates, one of Standard Candy Company's original brands. The ad spread across the back wall of the Elliston Pharmacy. which is where the Soda Shop humbly began behind a small counter. This partnership was simply divine confectionary ordinance."
Goo Goo Cluster will open online pre-orders on the Elliston Premium, starting March 27. Shipping on all pre-orders will begin April 3. For ordering information, visit googoo.com.
Elliston Place Soda Shop will exclusively sell the Premium beginning April 3, while supplies last. Goo Goo Chocolate Co, located in the heart of downtown Nashville off Third Ave., will carry the product for the months of April and May.
ABOUT GOO GOO CLUSTER
In 1912, in a copper kettle at the Standard Candy Company in Nashville, Tenn., America's first combination candy bar was invented: A roundish mound of luscious caramel, smooth creamy marshmallow nougat, and fresh roasted peanuts all covered with a thick coating of real milk chocolate. Additional products have been added to the lineup throughout the years much to the delight of Goo Goo enthusiasts, including Pecan, Peanut Butter, Lil' Goos and chef curated Premium Goo Goos. Creative candy lovers can also Design Your Own Premium Goo Goo online and through chocolate classes. The Goo Goo Shop in downtown Nashville finalized a $2 million transformation and reopened in fall 2021 as the Goo Goo Chocolate Co. offering interactive classes, a full-service chocolate bar serving premium chocolate, wine and whiskey pairings, boozy milkshakes and seasonal treats and a retail shop.
ABOUT ELLISTON PLACE SODA SHOP
Elliston Place Soda Shop: one part soda shop, one part meat-and-three, and one hundred percent bona fide Southern eatery. For 83 years, we've been cooking each meal fresh from scratch daily, following time-tested recipes and honoring our founder's meat-and-three legacy.
###