Franklin Tomorrow Chili Cook Off
By Polly Bibb

On Oct. 28, the streets of downtown Franklin will become a colorful display of costumes, vendors, booths, pumpkins and happy smiles. Drifting through the air will be the scent of warm apple cider, cotton candy and the one and only Chili Cook-Off. Franklin Tomorrow is hosting the Chili Cook-off ,and if it is anything like last year's cook off, the chili is bound to taste delicious.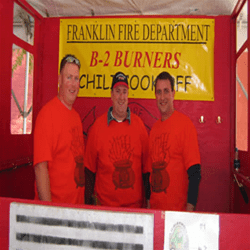 Located on Fourth Avenue, the Franklin Tomorrow Chili Cook Off begins at 11 a.m. and lasts until 7 p.m. At the Chili Cook Off, you will be able to taste various Chili creations and cast your vote for the best chili
Want to sponsor a team? Want to sponsor the event? What to learn more? Visit the Chili Cook-Off website…
Bring your family, your dog, put on your Halloween costumes and check out the 20th Annual Pumpkinfest in downtown Franklin. The event is open to the public and free. The main downtown stores will remain open until 3 p.m. and the vendor's booth housing homemade crafts, artwork, and other special treasures will open as early as 10 a.m. and close at 5 p.m. It is a great way to celebrate the Fall season. Remember to bring an empty stomach because that chili is something you don't want miss out on.
* Learn about Sponsorship opportunities
* Download the Team Information flyer
TEAMS IN COMPETITION
1 Battle Ground Academy
2 Franklin Special School District
3 Henpeck Market
4 Mickey Roo's Texas Barbecue
5 Monell's at Franklin's Historic Jail
6 Providence Farm
7 Puckett's Gro. & Restaurant
8 The Red Pony
9 St. Paul's Episcopal Church
10 TMA Group—Franklin Trolleys
SPONSORS
Gold
Brookhill Farm
Civil Construction
DA|AD
Five Chairs
Grant Park
Caren and Jeff Lipscomb
McArthur-Sanders Real Estate
Williamson Herald

Silver
Alday Communications
Franklin Is.com
JLB WORKS, LLC
Susan and Walter Gorman
LandDesign
Signs By Tomorrow

Franklin Tomorrow is a non-profit civic and citizen participation initiative that looks toward the future and what that holds for Franklin. The selected community leaders of Franklin Tomorrow focus on the following Franklin areas: Business, Community Character, Education, Environment, Housing, Government, Growth and Development, Recreation, and Transportation. For more information about Franklin Tomorrow, visit them on the web at www.franklintomorrow.org or call 615.794.0998.