Franklin Tomorrow 5th Annual Chili Cook-Off
Franklin Tomorrow's 5th annual Chili Cook-Off will be held Saturday, October 27, 2007 as part of the Downtown Franklin 21st annual Pumpkinfest celebration. The Franklin Tomorrow Chili Cook-Off lets the public decide who makes the best chili in town. Their giant tent will be at the intersection of 4th Avenue South and Main Street, and they will be offering chili tasting from 11 a.m. until the chili runs out around 5 p.m. Cost is $6 a tray with 2-ounce portions from each competitor. Tasters get to vote for their favorite chili. First and second place awards will be given in the categories of Best Chili, Best Booth Design, and People's Choice.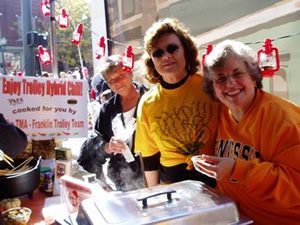 This year's competitors are: St. Paul's Episcopal Church, The Bunganut Pig Pub & Eatery, Jamison Station, Sol & Red Pony Restaurants, Monell's at Franklin's Historic Jail, Thompson's Station Grill, Jim 'n Nick's Barbeque, SLC Homebuilding, Puckett's Gro. & Restaurant, and St. Jude Children's Research Hospital.
The panel of judges includes Jen Brooks (Williams-Sonoma), Paul Dulmage (Sister City Mayor), Debbie Henry (TMA—2006 1st place best chili winner), Joe Indilisano (Lillie Belle's), Kathie Moore (Crye-Leike), Merrill Rose (Channel 5), and Rep. Charles Sargent (TN State House of Representatives).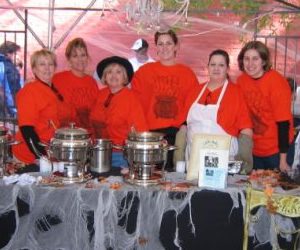 "This event has become an annual highlight for many in Franklin. Last year we served over 1,000 people!" said Patrice Mayo, executive director of Franklin Tomorrow, a civic group of business and community leaders. "
Franklin Tomorrow will be unveiling the three finalists in its Historic Franklin License Plate Contest, and the public will be invited to vote on-site at Pumpkinfest. Franklin is the first city in Tennessee to have its own specialty license plate, and the only specialty license plate designed and voted on by the community. The winning design will be emblematic of the charm, the people, and the history of our town. The license plates will serve as traveling billboards on the bumper of thousands of vehicles, reminding people of what a beautiful place Franklin is to visit, work, and live.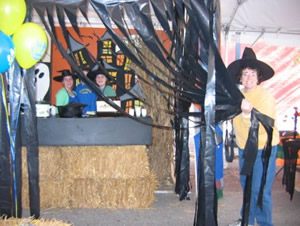 The Chili Cook-Off and proceeds from the sale of the Historic Franklin license place raise funds for the work of Franklin Tomorrow. Franklin Tomorrow is a non-profit community organization that communicates a shared and evolving vision for the future of Franklin and focuses that vision through education advocacy, evaluation, implementation, and recognition of the vision's specific goals and strategies.
For more information, contact Patrice Mayo at (615) 794-0998 or patrice@franklintomorrow.org.