Franklin Theatre Sold
Renovation, Fundraising Efforts To Ramp Up
The Heritage Foundation of Franklin and Williamson County today finalized its purchase of the historic Franklin Theatre, and now will hammer out a revitalization plan and fundraising strategy to restore the property and re-open it as a multi-use community entertainment venue.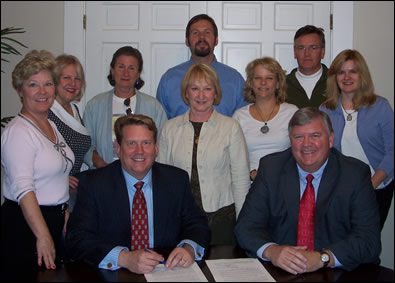 Shown here signing closing documents are Heritage Foundation President David Garrett (seated, left) and Bryan Echols (seated, right), closing attorney with Stites and Harbison law firm, witnessed by Heritage Foundation board members and staff (standing left to right) Damon Rogers, Mary Pearce, Emily Magid, Carol Cole, Ed Cagle, Kristy Williams, David Morris and Nancy Williams.

The nonprofit Heritage Foundation, which works to protect historic resources, closed its purchase of the downtown property late Tuesday from Corner Partnership LLC, Nashville, for $1.75 million. The historic Main Street theater closed in January after its former owners said they could no longer operate it as a privately owned movie house due to rising rent and other economic challenges.
"Buying and renovating the Franklin Theatre is a huge undertaking, but it's a project that has significant community support," said Mary Pearce, executive director of the Heritage Foundation. "It's a sensible investment in the heart of our historic downtown, and it's a more affordable approach than other options that have been discussed for creating a performing arts venue in Franklin."
After the 70-year-old theater closed earlier this year, community leaders and preservationists began mulling options for reopening it to show films as well as host live performances, meetings and other events.
Now, in terms of next steps, the Heritage Foundation is preparing to launch a community-wide fundraising effort to support the theater's revitalization. The plan is to work with experts to estimate the cost of the rehabilitation, draft a business plan to support its ongoing operation, and set a timeline for its re-opening.
"We've got a unique opportunity to restore a true community asset," Pearce said. "For this effort to be successful, we're going to need broad support from preservationists, civic organizations, business leaders, individuals and local government. We look forward to working with the entire community to make this project a success."