Dr. Barbara Winfrey
By Will Jordan and Brandy Blanton

Barbara Winfrey may have retired as the administrator at Brentwood High School last June, but her passions are still heavily anchored in education.
She spent more than 31 years as an educator in Tennessee school systems, and Winfrey never swayed from her zeal to help children learn.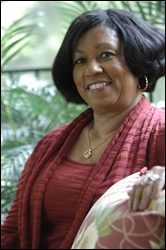 "I was always taught that a good teacher can teach any child, period," she says. "That's how I ended up in special education – through Peabody. When you get in special education you get locked in, they will not let you out because they can't find anyone else who will take the position. And everybody thinks that you're a hero – that you come in with all of these techniques and ideas on how to work with these children.
"But you don't know anymore than anybody else. All you know is how to love a child. And when you love them, they love you back, and as a result they respond to whatever it is you tell them. And a lot of teachers don't ever understand that that's what's going on – it's just the love that we have for each other. It's not anything else."
GETTING EDUCATED THE OLD FASHIONED WAY – EARNING IT HERSELF…
Over the course of her career, Winfrey has worked in nearly every capacity at a school – from serving food in the cafeteria (when she was attending school), to teaching at inner-city schools, to working in special education, to guidance counseling and finally as an administrator.
"I've seen about every facet of education there is," she says. "I resent people coming in from the outside and saying, 'I can fix the school system.' I mean, I can't go to the American Medical Association and say, 'Uh … I think I want to be on the board. I just feel like it.'Well, do you have an M.D.? 'No, I don't think I need that … I've got some money.'Why do we do that with education?
"All you've got to do is ask a teacher. When you get ready to build a building … ask the teachers what they need! People don't ask teachers. They just build it and say, 'Okay, make it work.'"
If she sounds fired up, she is. Winfrey hasn't lost any of the passion for education that she developed at an early age. Originally from Chattanooga, Tenn., 59-year-old Winfrey is the oldest of eight children and the first one in the family to graduate from college.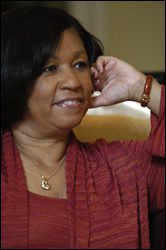 "My father had a third-grade education, but he taught himself how to read and write," she says. "He was a janitor at an elementary school for 42 years. My mother was a cook at the same school and only had an eighth-grade education. She quit school at 16 because she got pregnant."
Winfrey says her father would bring books home, and she was always intrigued.
"I wanted to finish something that he couldn't finish, so that's why I was so driven to finish school," she says. "But I'm not sure my mother understood the importance of education. She didn't have any money to send me to school, so she would try to talk me out of going."
Instead of quitting, Winfrey found another way to get her education – she worked in the cafeteria, washing dishes and serving food so she could get lunch every day.
"It was embarrassing, but I didn't think about it back then," she says. "I just wanted to go to school. I started out at Knoxville College and had a real bad year the first year and went to Tennessee State University. I graduated from TSU with a B.S. in Business Education. After that I earned a Master's of Science in Psychology. Later, I graduated from Vanderbilt with a Master's of Arts in Education, and then I received a Doctorate from TSU in Administration."
During her college years, Winfrey says she did anything she could to put food on the table. She waited tables, cashiered at the farmer's market, was a secretary (Life & Casualty's first black secretary in 1968) and even worked at St. Thomas Hospital as a unit clerk.
"Of course, it took me 10 years to get a B.S.," Winfrey explains. "I had to go to school part-time because I didn't have any money. It took me a long time."
TEACHING OTHERS
After graduating from Vanderbilt with her second master's, Winfrey taught seventh through ninth grade at Highland Heights Middle School, an inner-city school with a tough reputation at the time.
"Middle school is the last chance you have to save a child," she says. "By the time they get to high school, they already know everything. When you're teaching, you're not even thinking about the impact you've made on a child. You just don't have a clue. I loved those kids and still see some of my students from there today."
She recalls one of her prize students, Louis Upkins, and says he came from a rough background, something she identified with then.
"You know we weren't supposed to be there," she says. "The odds were against us. We weren't supposed to make it, but we did." Winfrey, whose pensive way of speaking and relaxed smile almost hide the fire in her belly, says that education in America is going the wrong way.
"I think the school system is going backwards instead of forwards," she says emphatically. "It's time for a change."
Winfrey served as administrator at Brentwood High School for six years before retiring last year and says that teachers are not meant to be "friends" of students.
"At Brentwood, I was a no-nonsense person," Winfrey explains. "I was not there to be a child's friend – I was not even thinking about being their friend. But I was friendly with them and nice to them … but I wanted them to always know that there was a line between who I am and who they are … I'm not difficult … it's just that I'm trying to prepare your child for the world – not stay home with you for the rest of your life."
After six years of what she describes as "good ole boy Williamson County politics," Winfrey says that she burned out. "I put in 31.2 years, and that was enough, because I wasn't making a difference anymore," she says. "It became less and less about children and more and more about politics, and I didn't want to be a part of that."
She retired June 17 on the sixth anniversary of her wedding day to Vernon Winfrey, a local barber and father to super-celebrity Oprah Winfrey.
IT'S ALL ABOUT FAMILY FOR BARBARA
Winfrey has two daughters from a previous marriage, Adrienne, 24 a teacher in Atlanta and, Ashley, 21, a senior at Clark Atlanta University. Winfrey says that she instilled in them her educational convictions.
"I always told my girls the only reason I survived a divorce was because I had a career – not just a job," she explains. "I stressed that to them, 'School is a must.' I mean you don't have a choice, you've got to go to school. Now what they do with it is a different story – at least they're getting it. Of course it's up to them – and you have to remember that flowers don't all bloom at the same time."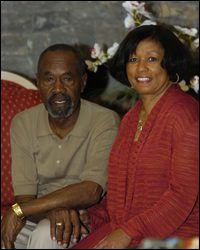 While she was working at Highland Heights, Barbara met Vernon, who was serving as a local councilman. Vernon worked with many of Barbara's students through his barbershop.
"He had done a whole lot of stuff for those kids in the neighborhood," she explains. "I thought, 'It would be a good idea to recognize him for all the things he's done to help these kids.' See, I used to send students down to him to work on Saturdays to sweep up hair and that kind of thing – kids who were in trouble."
She was so impressed with Vernon's community involvement that she lobbied to have a street in the area named after him and got it done – Vernon Winfrey Avenue. Ten years after that, Vernon's wife passed away, and he gave Barbara a call.
Three years later, he asked her to marry him.
"He was slow," she laughs. "He's always been so cool and laid back."
HER NEXT STEPS…
Winfrey pulls no punches about her future plans.
"I'm on vacation for a year and then I'm going to find something else to do," she says. "I have some projects I want to work on. For starters, I want to teach Bill Gates how to change education. He keeps talking about how he wants to change it, and I can tell him how to do it.
"What I resent more than anything on the face of this earth is for people to walk into education and ignore teachers just as if they don't know anything – just as if they're not professional enough to know how to run a school. You have people on the board of education who don't even have a background in education and others who think they've got all the answers and have never even worked in a school! Bill Gates wants to change education … call me."
Her reference to Gates points to a recent appearance by the computer mogul on Oprah's talk show, where the two discussed "educational solutions." This chat rubbed a raw nerve in Winfrey.
"Bill Gates has all kinds of ideas of how to fix the educational system," she says with a wry smile. "I'm hoping the opportunity presents itself that he, Oprah and I can have a talk."
For now, Barbara is just enjoying time with Vernon, who she says has no intention of retiring anytime soon.
"These days, I bring my husband out of his shell," she says. "We enjoy each other and do things together. For a while, before me, he never went anywhere or did anything – the barber shop was his entire life. And now I'll say, 'Honey, let's go,' and he'll do it. He never took advantage of the opportunities that his daughter gave him, but he is now."