Delegation from Bad Soden am Taunus Germany to Visit Franklin
Official Twinning of Sister City to happen June 6, Public Meet-Greet June 1
FRANKLIN, TN – Sister Cities of Franklin and Williamson County will host a delegation from their sister city, Bad Soden am Taunus Germany May 31-June 7. The relationship with Bad Soden began six years ago under former Sister Cities president Patricia Kriebel. Last year Mayor Ken Moore visited Germany along with several members of Sister Cities including Alderman Pearl Bransford who currently serves as President of Sister Cities. They signed the official German twinning papers during a ceremony held in Bad Soden. On June 6th, there will be a similar ceremony at the Eastern Flank Battlefield in Franklin to make the relationship complete.
The public is invited to a meet and greet Thursday, June 1, at 5:00 p.m. at the County Museum, Archive Building, at 611 Columbia Avenue. Other activities of the visiting German delegation will be attending a polo match at The Park at Harlinsdale Farm, a visit to Music City Roots at the Factory, and events with host families.
Sister Cities has organized four student exchanges with the German City with the assistance of Williamson County Schools.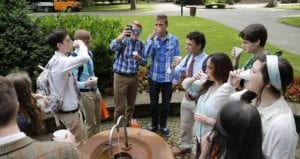 Franklin resident and former student Matthew Minor participated in the first student exchange. He said, "I went to Bad Soden in 2014, and I would not hesitate to say that the trip changed my life. Immersing ourselves in a foreign country allowed us a completely unique look into the lives and communities of our hosts, and we learned so much more than we would have traveling as ordinary tourists. Building relationships with our friends in Bad Soden and sharing our cultures with one another confirmed to me that I want to work as a diplomat in the US Foreign Service, where I would be doing much of the same as we did in Bad Soden. I'm so thankful to our two cities and to Sister Cities for facilitating the exchange, and allowing the other students and me the chance to build relationships and learn as much as we did."
The mission of Sister Cities of Franklin and Williamson County is to BUILD global relationships, to SHARE cultural and educational experiences, and to INSPIRE economic growth for our community.
BUILD relationships with international delegates and businesses as well as local officials and your community.
SHARE what's going on in the world and in our community through educational programs, membership meetings and the Celebration of Nations Festival.
INSPIRE cultural awareness and economic exchange within our community and throughout the world.
Sister Cities of Franklin & Williamson County was founded as an outgrowth of Leadership Franklin in March of 2002. Our current sister cities are Carleton Place, Ontario, Canada, County Laois, Ireland. and Bad Soden am Taunus, Germany.
-###-