Browse These Local Bookstores in Franklin and Nashville, Tennessee
For those interested in the art of reading, Franklin and Nashville, Tennessee have quite a few independent bookstores to browse! Whether you are on the hunt for a new book club to attend, the perfect nook to read in, or your next favorite novel, you are sure to find what you are looking for in this list of local booksellers!
Learn about local dining experiences, entertainment, shopping, and more at FranklinIs.com.
Bound Booksellers is a locally owned bookstore in Franklin with a curated selection of works ranging from young childrens' picture books to young adult and adult genres. This shop also offers gifts like candles, tea, stationary, toys, games, and more! Stop by Bound Booksellers if you are interested in browsing their collection or even joining their Bound Book Club! 
Ghostlight Books in Williamson County is a non-profit bookshop benefiting Midsouth Youth Theatre & Arts. Founded in 2017 as a fundraiser for Spring Hill students to access tuition-free production and arts education opportunities, the project expanded into an in-person location! This bookstore offers a wide variety of used books as well as movies and other gifts. 
Landmark Booksellers is a bookstore on Franklin's Main Street that specializes in curating new, old, and rare books. This local gem carries over 35,000 books and over 2,000 collectables, with prices ranging from $10-10,000! Take some time to visit this independent bookstore found inside a historic antebellum home from 1808!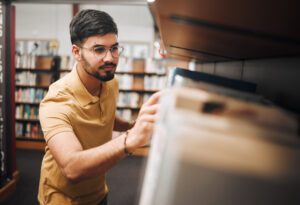 The Bookshop in East Nashville offers a curated collection of new books and fun monthly specials. Join their Lit Clique to receive monthly surprise books or participate in their annual Reading Challenge to explore new genres and win prizes! With book genres including fiction, self-help, cooking, history, memoir, and more, even the pickiest reader is sure to find something! 
Elder's Bookstore in Nashville is Tennessee's longest-operating bookstore. Vanderbilt University graduate Charles Elder opened Elder's Bookstore amidst The Great Depression in the early 1930s and the shop has since become a renowned dealer of 20th century literature! If you are interested in history, this local bookseller specializes in historical texts as well as Southern literature. 
Mostly Happy Books is located inside of Music Valley Antiques and packed full of books! Organized by genre and author, this hidden gem is any book lover's dream. With countless used books, a vast range of genres, and reasonable prices, feel free to pop into this book nook and browse their selection!
Novelette Booksellers is a local shop in East Nashville with a highly curated collection of fiction and nonfiction books as well as graphic novels. With a broad and inclusive selection of books by diverse authors, Novelette aims to celebrate our differences and provide the perfect books for consumers of all ages and backgrounds!
Parnassus Books is an independent bookstore in Green Hills owned by author Ann Patchett. This local spot hosts fun events throughout the year, including their monthly book club, gatherings with various authors, and weekly storytimes! Check out this independent bookstore for their selection of novels, signed books, and Musings blog!
Rhino Booksellers is owned by singer-songwriter Fred Koller, who is committed to Nashville's creative talent. This bookstore offers a selection of used books, instruments, vinyl records, and more! Complete with quirky decorations, introspective conversation, and maybe even an appearance from the owner's cat, Rhino Booksellers is a must-visit in Music City!
Looking for something fun to do this weekend? Shopping for antiques or curious about a restaurant? Wanting to volunteer your time with a non-profit, or just stopping by downtown Franklin, TN for the day? Access it all on FranklinIs.com. We encourage you to browse through the Living, News, Entertainment, Family & Kids, Real Estate, Visit, Resources and Events Calendar sections. There is something for everyone! 
FranklinIs a website dedicated to all things Franklin, TN and Williamson County! Supporting local non-profits, businesses, residents and visitors, FranklinIs the go-to place for all your Franklin and Williamson County needs.