Bloom N Garden Expo Pictures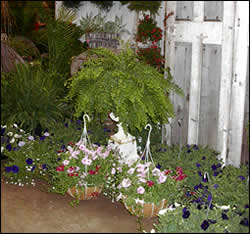 The fifth annual Bloom 'n' Garden Expo was held April 11, 12 and 13, at the Williamson County Agricultural Expo Park just off I-65 at Exit 61 (Peytonsville Road) in Franklin, Tennessee. Hours were 10 a.m. to 8 p.m. Friday and Saturday and noon to 5 p.m. on Sunday.
The Expo featured some 200 vendor booths including local growers, major garden exhibits, children's activities, an outstanding speaker's program, and workshops.