Battle of Franklin Artifacts
For the first time since the Civil War Battle of Franklin, 143 years ago, Historic Carnton Plantation will house the pistol and kepi, or cap, once belonging to Maj. Gen. Patrick Ronayne Cleburne. Both items will be on display at the historic landmark from June 15 – 21, 2008. Noted Carnton Military Historian and author, Eric A. Jacobson, calls the exhibit "a tremendous opportunity for people to better understand the Battle of Franklin and Maj. Gen. Cleburne.  Carnton is truly honored to have these historic items on display."
In the early morning hours of December 1, 1864 the scene at Carnton was one of chaos.  Hundreds of Confederate wounded from Maj. Gen. William Loring's Division had been brought to the house throughout the night of November 30, 1864, casualties of the horrific Battle of Franklin.  Shortly after sunrise an ambulance arrived at Carnton bearing the body of Maj. Gen. Patrick Cleburne, who had been killed during the battle.  The career of one of the Confederacy's greatest officers was at an end.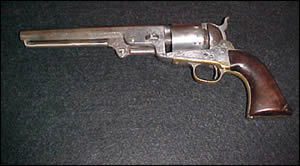 When Cleburne's body was discovered about dawn on December 1, he was just forty or fifty yards from the Federal earthworks.  Lying flat on his back Cleburne's body had been pilfered during the night.  His boots were missing as were his watch and sword belt.  Quickly Cleburne was loaded into an ambulance and taken to Carnton where his remains were laid on the back porch.   The lady of the house, Carrie McGavock, placed an embroidered handkerchief over Cleburne's face and took his kepi and sword for safekeeping.  By the end of the day, the bodies of three other Confederate generals joined Cleburne on the porch.
What became of Cleburne's personal effects which were not taken the night after the Battle of Franklin?  His kepi was kept by the McGavocks and eventually donated to the Tennessee State Museum.  It remains unclear what happened to his sword since today it is in private hands. His pistol eventually ended up in the possession of the Layland Museum in Cleburne, Texas.  Ben Hammons, Curator of Collections at the Layland Museum remarks,
"The sentimental aspect of the pistol returning to the site where Maj. Gen. Cleburne last possessed it and being reunited with his kepi is a momentous occasion."
Along with the pistol and kepi, renderings of Maj. General Cleburne, painted by notable Civil War artists, will also be on display. On Friday, June 20th at 7 p.m., a reception will be held on the back porch of Carnton, where Cleburne's body laid the night of the Battle of Franklin.
Eric A. Jacobson and Thomas Cartwright, Director of the Carter House and noted Civil War Historian, will speak. Cost of the reception is $10.00. Admission to the exhibit is $12.00 and includes a guided tour of the historic house and grounds. Regular hours of admission are M – Sat 9 a.m. to 5 p.m. and Sun 1 – 5 p.m.