Articles for the Wedding Guide
By: Candace Hutchins
Currently, I am busy working on four articles for the Nashville Scene Wedding Guide. The guide is a supplement to the Nashville Scene that gives readers information about wedding planning and prepares brides for Nashville's upcoming "Weddings The Bridal Show". I have had a lot of fun researching different wedding trends and learning more about the wedding planning process.
It has been interesting to read about the factors that go into wedding planning and the current trends in weddings today. I have also had the opportunity get the inside scoop by speaking with local wedding vendors about what their clients want.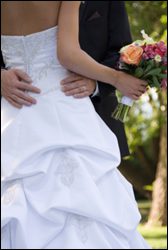 Researching current wedding trends is a pleasurable experience for me because I do not have to deal with any of the stress that seems to come with actually planning a wedding. I have the opportunity to write about different aspects of weddings with making absolutely no commitment.
In some ways it may seem that I am unfit and unqualified to write about weddings. My friends and I are still young and are trying to find jobs, and far from thinking about getting married. We see weddings as an opportunity for a wild party, not as some ceremonious commitment to someone for the rest of your life. Moreover, unless you count being a flower girl when I was 5 years old, I personally have little first-hand experience with weddings.
So maybe it is awkward that brides-to-be will be consulting my articles in the Nashville Scene Wedding Guide to find out about the current trends in weddings…
But, I believe that my personal disconnection from weddings is actually to my advantage as a writer. I am the perfect neutral source to write about weddings because although oblivious to the whole wedding planning process, I love nice dresses, cakes, parties, jewelry, and/or monogrammed items.
I can research and write the articles as a true reporter without a bias based on how my wedding was or how it will be. As I study wedding trends I don't have to make any decisions or reject any ideas. I am willing to hear about every wedding theme, unique touches, and outrageous fashion without prejudice. Everything sounds like a good idea, and if brides are willing to commit to having glow-in-the-dark bridesmaid dresses, who am I to judge? I am however, writing articles about "tasteful trends"…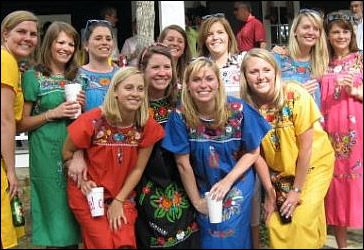 Hopefully my articles for the wedding guide will provide readers an unbiased report on current wedding trends. While I am enjoying learning about how couples are making their weddings unique and modern, it does not make me eager to plan my own wedding. For now, I enjoy having my girl friends, wearing crazy bridesmaid-esque matching dresses, drinking margaritas, and eating lots of cake.