Always Have Fun
By Christine Boulton
Why does everyone think that weddings are always these high pressure breeding grounds for bridezillas, mothers from hell and flaky bridesmaids? What a silly way to celebrate that wonderful, amazing leap of faith that is.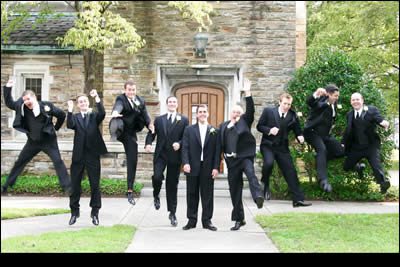 I know you have all these people to please from two different families; there are expectations to be met and traditions to uphold. Slow down. There have to be some ways to take off part of that pressure and have fun at your own wedding.
There are some things you can do before the wedding to set the stage for a more relaxed day. The first, and maybe most important thing, is to change your perspective – rather than focusing on every detail in the pursuit of perfection focus on the marriage. REMEMBER THIS: If the flowers aren't right or you don't get the formal portrait of all your cousins or your gown doesn't fit like a glove, you will still be married at the end of the day. End of story.
Everything else is fluff. Now let's see what we can do to make that fluff behave itself!
Be organized
Whether you are a list maker by nature or not, you have to be one to pull off an event this big. The more detailed and organized your list the more it will help you.
This is what keeps the pros together when they plan events. Well-organized lists with times, dates and phone numbers will end up being both a comfort and a time-saver in the long run. You can find some basic lists on any of the big bridal Web sites (or in this magazine) to get you started. Once you have a launch pad, personalize it as much as possible. It may sound like a big task, but as you get into wedding week you will be glad you have it. As you near the finish line make a list of all the details you have solidified.
Be sure to include a comprehensive list of the contact information for all of your vendors, your parents and any one else you have asked to help. Be sure it includes the cell phone number of EVERYONE that will be involved the day of the wedding. Now make copies and distribute one to those on the list. That way you aren't the only one that they have to track down if there is a question.
Once you hand those lists off pack your copy away in your "day of" bag and forget it. Yes, I said forget it, let everyone else worry about the details from here on out. They are well-armed and the more you distance yourself from the details the week of the wedding the less stress you will feel.
Delegate
You do not have to do this by yourself. You have friends and family who hopefully are just dying to help in any way they can. Now that you have these wonderful lists they will know just what you want them to do. Let them.
Lean on your professionals. Chances are good that they have worked through the details of putting together a wedding at whatever site you are using many times in the past. Take their advice; which is not to say, let them dictate the details to you. But if they have a suggestion to change something, find out why. They may have a very good point. Remember, you hired them because they have been there and done that. Besides, they have your lists.
One thing you may consider if you are having a very large wedding is to have a vendor meeting on site the Monday before your wedding with the major players; planner, caterer, rentals, florist and photographer. Make sure everyone is on the same page with you so there aren't any questions the day of the event. Get down your timelines and make sure that they work for everyone. If they seem tight, eliminate some things. In the long run you won't miss them, and you will have more time to enjoy the day. Tight timelines lead to cranky people, which lead to stressed brides.
Pamper yourself
From the minute you walk out of that meeting Monday, the planning is over, and it is time to have fun.
Get a leisurely mani and pedi or book a spa day with your girls. In fact, spend as much time as you can with them doing what ever you did together before the whole planning madness took over your brain. Reconnect as friends. Take a couple of days to not be the bride, just be you. It will give you a chance to decompress and relax.
Likewise, go on a date with your fiancé. Try not to talk about the wedding. Trust that whatever details he is in charge of have been handled. Just enjoy each other's company and remember why you took on this wedding planning in the first place. Laugh out loud. Get some extra sleep, even if that means a nap in the middle of the day. Daydream a little.
Turn off you cell phone for a few hours at a time this last week. Its time to let those people you have delegated to start picking up the slack. Rather than answer each little nitpick question when it comes up, you can field them all at once and be done with it.
Eat right. You aren't going to magically drop a dress size in four days anyway. You have worked hard to get in shape now take a break from the dieting and enjoy life a little. Besides your gown has already been fitted so even if you could drop a dress size that would not be a good thing.
So for crying out loud "Eat a sandwich!" Oh what the heck, make it a hot fudge sundae.
Let it go
When it comes to the day of the wedding, let it go.
There really are very few things that actually go that wrong at weddings. Something will go wrong, you can count on that. In the grand scheme of things however, it won't make a bit of difference. You will be the only one that notices if the tulips are a darker shade of orange than you had envisioned. And if you forget the programs, no one but you will miss them. Don't let yourself fall into the trap of trying to micromanage every detail.
This is a party to celebrate your leap of faith into the future with the love of your life by your side. Treat it like that, have fun. No one is going to grade you badly. There is no test you might flunk or promotion you won't get because of your wedding. You did the hard part over the last few months.
It's supposed to be a celebration; so celebrate!